Zzyzx Road
Six miles southwest of Baker, Calif. on I-15, Zzyzx Road leads 5 miles south into Mojave National Preserve along the western shore of Soda Lake (dry).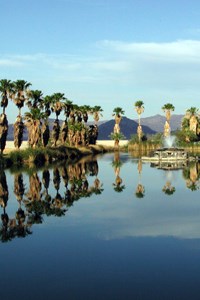 Zzyzx/Soda Springs - CURRENTLY CLOSED
Self-guiding trail, wayside exhibits, vault toilets, non-potable water, picnic area.
Historically known as Soda Springs and later renamed Zzyzx (pronounced Zye-Zix), this oasis is home to the California State University Desert Studies Center. The buildings and pond were developed in the 1940s by Curtis Springer, who operated a health resort at the site.

Zzyzx is CURRENTLY CLOSED, but you can learn about its colorful and fascinating history on our Zzyzx history page.
Last updated: December 7, 2020