Ranger Programs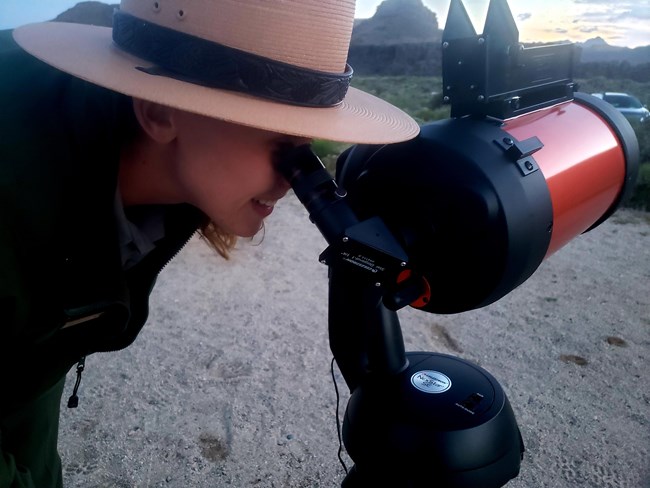 Ranger Programs Postponed Until Further Notice
Guided Ranger Programs begin in September, and include guided walks and night sky programs. Other Guided Ranger Programs may be arranged for visiting groups, tours, or school groups, depending on staff availability. To inquire further, contact Kelso Depot at (760) 252-6108 or
email us
.
2020 Schedule
ALL PROGRAMMING HAS BEEN POSTPONED UNTIL FURTHER NOTICE
Fridays
2:00 PM - Guided Teutonia Peak Hike
Walk with a ranger through a dense joshua tree forest and up a small peak with a beautiful view. Meet at Teutonia Peak trailhead. Approximately 2 hours, suitable for all skill levels.
December - May
Saturdays
7:30 PM - Dark Sky Astronomy Program
Join astronomy rangers to view our magnificent night sky and learn about the importance of darkness at Mojave National Preserve. Meet at Site #1 at Hole in the Wall Campground. Up to 1 hour.
October through mid-December and mid-February through May
Sundays
10:00 AM - Guided Rings Loop Trail Walk
Join a Ranger for a remarkable walk that includes petroglyphs, a narrow, tuff-filled canyon and a short climb out of the canyon via fixed iron rings. Meet at Hole in the Wall Visitor Center flagpole. 1 hour, great for families, not suitable for pets.
September - May
Special Events
Full Moon Guided Hikes
Join rangers for guided hike on the Kelso Dunes Trail under the glow of the full moon. Hikes will be moderately strenuous and approximately one-and-a-half to two hours.
Reservations are required:
sign up in advance at Kelso Depot Visitor Center or by calling 760-252-6108.
Full Moon Hike Dates
Full Moon Hikes Will Return in Late 2020!
Join rangers on a virtual hike on the Teutonia Peak trail.

Duration:

9 minutes, 18 seconds
Come learn a little bit about life in the past in Kelso, CA.

Duration:

3 minutes, 7 seconds
Our park archaeologist gives a short talk on some of the rock art that can be found in the Preserve.

Duration:

4 minutes, 9 seconds
Come learn a little about desert tortoises from one of our field biologists.

Duration:

6 minutes, 47 seconds
Our astronomy rangers provide a short activity about the sun and Earth.

Duration:

8 minutes, 16 seconds
Last updated: April 26, 2020