Mojave National Preserve and Safari Club International, Orange County Chapter Youth Quail Hunt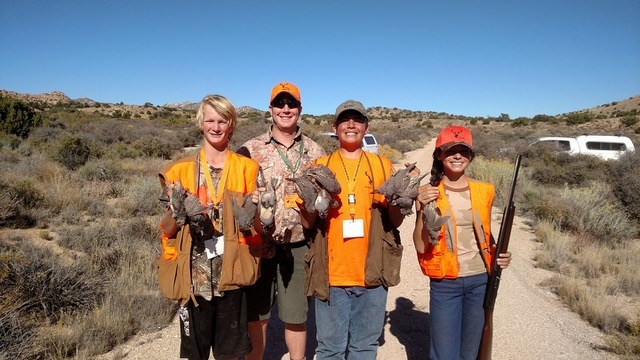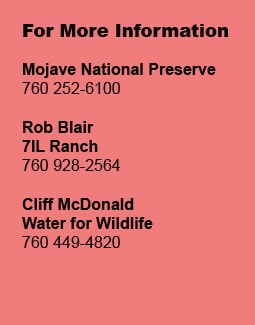 2020 Youth Quail Hunt Cancelled

Due to the current status and future uncertainties of the COVID-19 pandemic here in Southern California, the Mojave/SCI Junior Quail Hunt event will not be held October 3 - 4, 2020. We will refocus our planning efforts to next year when it will be held October 2 - 3, 2021. Ultimately our concern for everyone's health and well being was more pressing that holding the event.

Quail hunting for junior license holders will still be legal and open in the Preserve for that weekend, provided no state or county restrictions are applied. Only the event/gathering will be canceled.

Please contact Neal Darby at neal_darby@nps.gov or 760-252-6146 with questions.




Beginning in 2019, non-lead ammunition is required statewide in California for all hunting and this includes within Mojave National Preserve.
Who can participate?
- All youth 10-17 years old who have or can successfully complete a hunter's safety education course and possess a California Junior Hunting license by September 15th are eligible to register.
- Parents or guardians are encouraged to attend but cannot hunt.
- Youth will be paired with an experienced hunter who will guide youth in tracking and harvesting these elusive game birds.

What activities are included?
- Hunt with a guide all day Saturday: exact schedule to be determined. Sunday hunting is on your own.
- Practice hunting and wilderness safety.
- Learn more about Gambel's quail and apply this knowledge in the hunt.
- Learn field care and dressing of harvested game.
- Rangers will provide talks, tours, and camp activities.

What about meals?
- There will be a pot-luck on Friday evening.
- Meals that are provided: Saturday and Sunday breakfast.
- Saturday Dinner.
NO LUNCH WILL BE PROVIDED
- Bring your own lunch for Saturday and Sunday.

Where?
- Black Canyon Group Campground at Hole-in-the-Wall, Mojave National Preserve
- Directions: 20 miles north of I-40 on Essex and Black Canyon Roads.
- No hookups. Water and vault toilets are available.

How do I sign up?
- Registration for the 2020 hunt will open in August of 2020. Check back here for more information.
- Space is limited to the first 55 youth to register.
- Late registrants will be placed on a waiting list, and will be informed if space becomes available.

Last updated: July 31, 2020