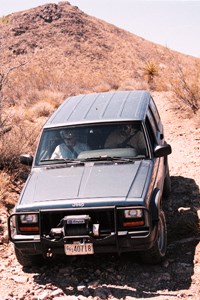 Before beginning any adventure, four-wheel drivers should ensure that their vehicle is in good condition: check tires, oil, and gas gauge. For emergencies, carry tools, tire jack, towrope, extra water, and fluids for your vehicle. Carry a good map; do not depend upon GPS navigation devices.
Rules of the Road
All vehicles operating within Mojave National Preserve must be street-legal in accordance with California DMV requirements, including current registration and tags, lights and turn signals, and valid insurance. California "Green Sticker" and "Red Sticker" programs are not recognized within the preserve.
Off-pavement travel is allowed only on existing, open dirt roads. Do not travel cross-country or create new routes. This rule is strictly enforced; violators will receive citations. Driving in washes is not permitted. Watch for and respect Wilderness Boundary signs; motorized vehicles and bicycles are not allowed in designated Wilderness Areas.
Road Conditions
Road conditions vary widely (click here for the latest updates). Dirt roads might be rough, sandy, or muddy, rendering them impassable and the unprepared motorist could be trapped many miles from help. Watch for tortoses, and other wildlife on roadways.