Desert Tortoise Ranger Program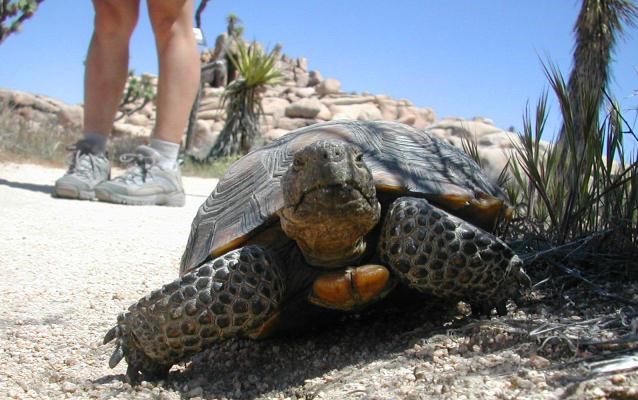 Presenter: Christina (Chris) Mills


Contact Information:
Phone: (760) 326-7051 or (760) 252-6123
Email: Christina_Burns@nps.gov
Days Available: Wednesday through Saturday, 8:30AM - 6:00PM
Overview: Can you name three things that you have in common with a desert tortoise? We both have a soft spot in our protective covering (the skull in humans and upper shell in tortoises) for a period of time after we are born, we both reach sexual maturity in our teens, and we both can live to the ripe old age of 80 or more years.
Content: An overview of the NPS and Mojave National Preserve is provided, and small promotional items such as stickers or park pencils or park newspapers are distributed to the students. Tortoise shells and/or a live captive-born tortoise are used for the program. Interactive activities are used to emphasize facts such as the typical length of tortoise burrow, what their eggs look like when they are born, what they eat, gender identification, why they are threatened, why they shouldn't be removed from the wild, and so forth. If a live specimen is used, students have the opportunity to touch the animal.
Grades Intended: 3rd through 6th
Materials Needed: None
Time Needed: 30 minutes per classroom, plus 15 minutes to pack and move to the next classroom
Program Organization: I prefer to do multiple sessions in one day at a particular school, so I can make presentations to all the classrooms in all of one or most of two grades. I can usually fit four to six programs in one day, depending on timing. I will also need travel time to get to the site in the morning.
Curriculum Topics Covered: ecosystems, web of life/food chain, preservation/conservation, endangered/threatened species, National Park System
Locations Available: Needles, Bullhead City, Laughlin, Mohave Valley/Fort Mohave, Searchlight, Baker, Golden Shores, Parker, and Kingman
Last updated: February 28, 2015