Meet the Social Media Team
Have you ever wondered who's behind the initials in parenthesis after each and every post we share? Meet our social media team and the people who bring Montezuma Castle National Monument to you where ever you are, around the world.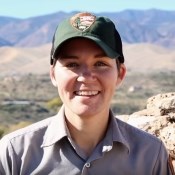 Administrators
(lvb)
LJ has been involved with environmental and natural history education since 2008. They began their career on Catalina Island working for a camp that taught students to conserve and respect their natural resources. After graduating from the Park Ranger Training Program at Northern Arizona University, LJ started their National Park Service career in May of 2013 here at Montezuma Castle and Tuzigoot National Monuments.
LJ loves insects. If you find a cool insect on the trail, LJ wants to know about it (please just take a picture, LJ doesn't like to disturb them in their natural habitat). They also have a degree in agriculture, so if you want to talk about how farming is one of the most important developments in human history, they'd be up for that too. At home, LJ likes to cook, exercise, garden, hike, and take photographs of insects (did we mention they likes insects?).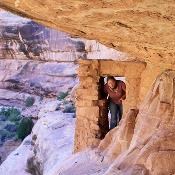 (sh)
Sharlot didn't camp out until after her 18th birthday. Since then she's been hooked on all things outdoors! She has worked for MOCA (Montezuma Castle) and TUZI (Tuzigoot) since 2009, when she returned to her beloved home state of Arizona. Before that she explored the nature and cultures of Madagascar and Oregon. Now she loves to hike with her two dogs and husband, when she's not on the trail or leading the summer Junior Ranger camps at Montezuma Well. She also recently went back to school, deciding that she should get a master's degree to further focus her NPS career in archives and archeology.
Most of all, Sharlot likes finding out new things! So if something amazes you about our parks, let her know by posting it! If you still have an unanswered question after leaving, ask it on Facebook! She wants to stay connected with you.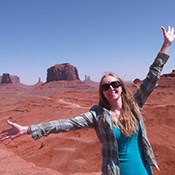 (ki)

Krystina has been working at Montezuma Castle since 2011. She began as a Student Conservation Association intern and became an employee through the Pathways Program for students in 2012. Krystina recently earned her MA in archaeology from Northern Arizona University. Her thesis, "Same Story, Different Pueblo?" focuses on the interpretation of archaeological sites within the National Park Service in the American Southwest. When she isn't working as a park ranger, she enjoys fiber arts and spending time with her bearded dragon Arnold.
Krystina previously interned with the Flagstaff Area National Monuments (Wupatki, Sunset Crater, and Walnut Canyon) and is an avid supporter of the Passport to your National Parks and Junior Ranger program. She has earned badges from at least 34 parks, so far...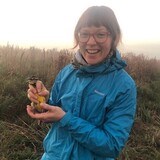 Contributors
(ch)
Caitlin began her National Park Service career somewhat unconventionally. She worked for six years in the private sector as a retail manager, and during her tenure, discovered that her preferred way to decompress and recharge was to recreate on public lands. In 2017, Caitlin made the decision to quit her job and travel the country in search of her dream job in public lands management. She joined our team as a live-in volunteer at Montezuma Well, and was then hired as an American Conservation Experience intern. After completing her internship, she was hired on as a park ranger in 2018.
When Caitlin isn't in our park, she can be found hiking, birding, backpacking, road tripping, camping, admiring plants, practicing and/or teaching yoga, running, or in the kitchen preparing (and eating!) delicious plant-based meals. Send her all your bird and plant photos, she would love to help you identify them!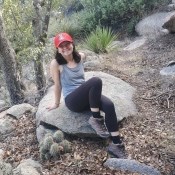 (eh)
Emily is the Americorps intern at Montezuma Castle and Tuzigoot. She studied Classical history in college and, after teaching for two years, decided to pursue a degree in museum studies.
After a stint volunteering at Tonto National Monument, working in Mexico, studying in Italy, and completing an internship at Montezuma Well, she earned her master's in 2020. Emily is now the interpretation, education, and outreach intern, and is excited to connect with the park's virtual visitors!
In her free time, Emily enjoys hiking, road-tripping, stargazing, reading the Aeneid and, of course, checking out new museums. She always has time to stop and see the cacti at the park - her favorite is the hedgehog cactus. She has been to (almost) every national park in Arizona and looks forward to finishing this goal soon!
Last updated: June 27, 2020