St. Anthony Falls Visitor Center and Lock and Dam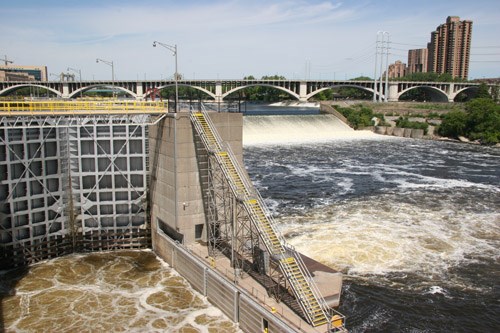 Introduction
Upper St. Anthony Falls Lock and Dam provides panoramic views of the Upper St. Anthony Lock and Dam, St. Anthony Falls, and the surrounding mill district. Exhibits at the visitor center provide information about the falls and its place in Minnesota history. Rangers lead short walks from the visitor center out onto the lock walls and describe how the falls changed the course of history of the area and of the nation.
CAUTION: Boaters, kayakers, and canoeists should exercise caution around the dam due to water turbulence and strong currents. There is now a portage around the dam for canoeists and kayakers.
History
The dream of traveling north of St. Anthony Falls on the Mississippi River was made possible when Congress approved the Upper Minneapolis Harbor Development Project in 1937. This project included the construction of the Upper St. Anthony Falls Lock and Dam that was completed in 1963.
With a lift of 49 feet, the lock at St. Anthony Falls accounts for more than 10% of the total height change of the Mississippi River between the Twin Cities and St. Louis, MO. The Upper St. Anthony Lock and Dam, along with the Lower St. Anthony Falls Lock and Dam, allowed navigation to the head of the Mississippi River's 9-foot channel until the upper lock was closed in 2015 to navigation.
The area's historic milling district, using the power of falling water at St. Anthony Falls, first gained prominence with the construction of large-scale lumber milling from logs floated down the Mississippi from central and northern Minnesota pine forests. Flour milling boomed later and numerous mills along this stretch of river changed the way food was produced, marketed, and distributed and changed the way we think about food.
Activities
Tours of the lock and dam are offered daily at 11:00 a.m. and 3:00 p.m. on days when this seasonal visitor center is open, but visitors are welcome at any time during open hours. Subjects of the staff-led tours include the lively history of the river, milling, and other topics. Tours are free, but are limited to 20 participants on a first-come, first-served basis. We do not provide tours to groups or schools nor do we take reservations. The lock wall will be open to the general public from 12:00 p.m. to 2:00 p.m. on days that the visitor center is open.
Visitors can have their NPS passports stamped at the visitor center.
Military, Every Kid in a Park (4th grade) and Access passes are available at the St. Anthony Visitor Center. (Annual passes and the Senior Annual and Lifetime passes are only available at the Mississippi River Visitor Center in Saint Paul.)
There are numerous possibilities for walks and exploring the area's rich history, besides our guided tours. Talk to a ranger about possibilities or use the links below in Nearby Attractions.
Hours, Directions, and Contact Information
1 Portland Avenue Minneapolis, MN 55401

GPS: 44.980880, -93.258322
Admission and tours are free.
Parking may also be found on the streets in the area and at the Minneapolis fee parking lot just north of the lock on West River Parkway. Ask about parking for those with limited mobility.
See Operating Hours and Seasons for more information.

Contact information: 952-303-2706
Nearby Attractions
Mill Ruins Park, Mill City Museum, Stone Arch Bridge, Father Hennepin Bluffs Park, First Bridge Park, Boom Island Park, Grand Rounds Scenic Byway, Ard Godfrey House, St. Anthony Falls National Historic District
Last updated: September 4, 2019