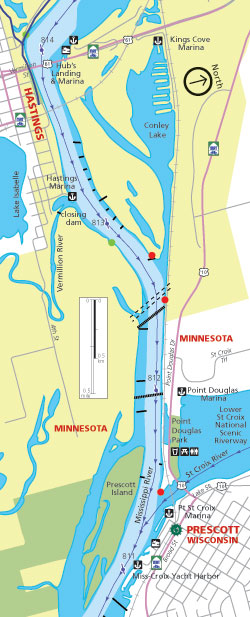 River mile: 814 - 811
Just below Hastings the river valley opens up into a broad floodplain between towering wooded bluffs. The St. Croix River (811.5 E), itself a National Scenic Riverway administered by the National Park Service, enters the Mississippi at Prescott, Wis. Here, the great Mississippi for the first time forms the border between Minnesota and Wisconsin. Before the waters of the two rivers intermingle, you can often see the sediment-clouded waters of the Mississippi running side-by-side with the darker, clearer waters of the St. Croix. A great place to view this is from the overlook at the Great River Road Visitor Center at Freedom Park in Prescott (map 24).
Point Douglas Park is a popular swimming beach in summer.