Mississippi River Paddle Share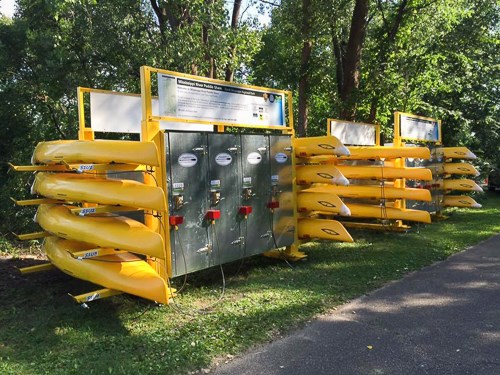 Introduction
The Mississippi River Paddle Share is a new and exciting recreational opportunity for people who don't own a boat, have some paddling experience, and want a safe, enjoyable, and convenient paddling experience in the heart of the Twin Cities.
Reserving a single or tandem kayak, paddle, and life vest is easy at rental stations located in Coon Rapids Dam Regional Park (West), River Park in Brooklyn Park, North Mississippi Regional Park in North Minneapolis, the Mississippi Watershed Management Organization near the Lowery Avenue bridge, Pickerel Lake in Lilydale Regional Park, or Hidden Falls Regional Park in Saint Paul. Depending on the route you choose, you can paddle two to seven miles downstream to a station where the equipment is returned.
A Paddleshare station was installed at Pickerel Lake in Lilydale Regional Park in 2018. This is an ideal location, a small lake without motorized traffic, to learn how to paddle a kayak. It's also a great place to view wildlife.
Equipment may be checked out for one of several three-hour periods. Paddle Share stations are located near transit at all locations and Nice Ride Minnesota bike share stations in Minneapolis and Saint Paul. You can paddle downriver, return the kayak and equipment, and then catch transit, rent a Nice Ride bicycle, or ride-share back to your starting point or home.
Please note that Nice Ride bicycles will not be available in the Saint Paul area in 2019, although they will continue to be available in Minneapolis.
To learn more about this exciting recreational opportunity and how to reserve equipment, go to the Mississippi River Paddle Share website.
Partners
Mississippi River Paddle Share is funded by the National Park Service with support from the following partners: Mississippi Park Connection, Minneapolis Park and Recreation Board, Saint Paul Parks and Recreation, MWMO, REI, Nice Ride Minnesota, NEEF, and the National Park Foundation.
Last updated: February 27, 2020