Gluek Park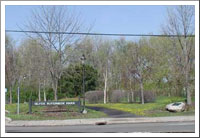 Overview

Gluek Park was named in honor of Arthur Gluek, who donated $25,000 to the city for a city park.
Arthur Gluek died in February, 1990. Ed Karbo, Ken Franke and John Barno, aided by neighbors in both the Marshall Terrace and Bottineau neighborhoods, worked with the city for money to improve the park.
Work on the park was finished in 1994 and it was officially named Gluek Riverside Park on May 6, 1995.
Gluek Park is a small neighborhood park located between a busy street and a busy river.
Activities: There is a pavilion available for visitors. A trail also runs through the park looping from the 694 bridge to St. Anthony Parkway. Towards the river, visitors can watch barges making their up and down the river.
Hours: 6:00 a.m. to 10:00 p.m., unless otherwise posted.
Contact Information: Call the Minneapolis Park and Recreation Board at (612) 230-6400.
Last updated: March 23, 2016