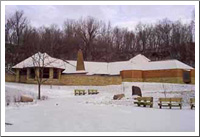 History
The Fort Snelling State Park Visitor Center opened to the public in 1997.
General Information
The Visitor Center provides year round educational and interpretive programs.
Activities: For upcoming educational programs and activities, please call.
Hours: Please call for more information.
Location: Hwy. 5 & Post Rd in St. Paul.
Contact Information: Call the Fort Snelling State Park at (612) 725-2724.