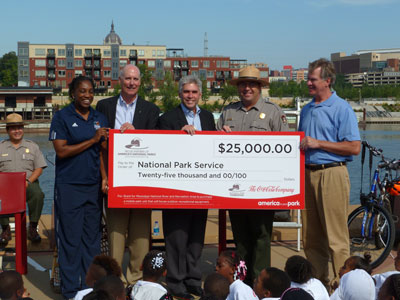 Through the Coca-Cola-launched America Is Your Park campaign, the Mississippi National River and Recreation Area was presented with a $25,000 grant to help purchase a mobile park unit.
The check was presented to Superintendent Paul Labovitz at a daytime event at Harriet Island in St. Paul. After the check presentation, students from the local Boys and Girls Club participated in a fit clinic hosted by former WNBA star Teresa Edwards.
The mobile park unit will be outfitted with fishing poles, bikes, snowshoes, gps units and other recreational equipment to provide park visitors with an opportunity to be more active, and explore a variety of recreational offerings along the Mississippi River. The mobile park unit will also strengthen the park's ability to reach new audiences by providing a unique national park experience to communities where they live, year-round, and help bring more public activity and awareness.