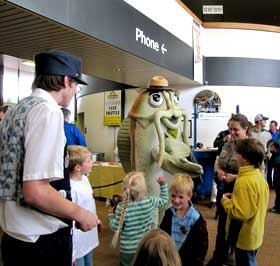 It was a busy spring at Mississippi National River and Recreation Area (MISS), full of great events, anniversaries and good news! Mississippi River Forum has been a public success, we kicked off an annual tradition for National Park Week, put National Train Day on track as an annual event in the Twin Cities and had a volunteer recognized at the national level.
Most recently, MISS was selected as one of 20 parks for the First Lady's Let's Move Outside! Junior Ranger Pilot Program. Our Junior Ranger program is somewhat unique in that kids can find activities to become Junior Rangers in six fixed locations with site-specific activities and have many opportunities during the year. It is those opportunities – canoeing, camping, biking, hiking and snowshoeing – that earned us a place in the pilot program.
Other great news: Holly Marsh was selected as the recipient of the Youth Volunteer category of the 2009 George and Helen Hartzog Awards for Outstanding Volunteer Service. Asked why she chose to volunteer for the National Park Service (NPS), Marsh answered, "I've known since I was 12 that I wanted to be a National Park Ranger. My cousin works at North Cascades National Park and I've always wanted to emulate her and follow in her footsteps."
The sixth annual eagle survey, held on May 17, indicated a continued strong recovery in the bald eagle population along the 72 miles of the Mississippi River within the park. Researchers located 37 active nests. From the 28 nests actually visited by the researchers, 52 nestlings were observed and banded with blood and feather samples taken for use in contaminant studies. The overall nest success rate was 82%, with an average of 1.8 nestlings per nest, including nine nests with triplets! Preliminary results from the sampling should be available sometime late July. Check out the video on our Facebook page!
May saw the first annual National Train Day (NTD) in Saint Paul. "What," you may ask "does National Train Day have to do with the National Park Service?" Some may immediately – and correctly – guess the connection is the Trails and Rails program. But more to the point, Saint Paul National Train Day was spear-headed and managed by MISS Trails and Rails volunteer Arlan Tietel. Park Ranger Ann Sarnecki, who manages the Trails and Rails program for MISS, had no idea when she asked Arlan to work with Amtrak on a NTD program that it would turn into an event that saw more than 5,000 visitors, and was responsible for over 300 new Junior Rangers.
MISS recognized National Park Week with a "Where's Freddie in your national Park?" contest. Participants had fun trying to guess where park mascot, Freddie the Flathead Catfish, was each day from the clues he sent in daily postcards from his travels.
The Mississippi River Forum celebrated its one year anniversary just as it kicked off last year – a widely attended workshop – this year featuring keynote speaker Congresswoman Betty McCollum at the Science Museum of Minnesota. What has made this program so received? "We all know how easy it is to operate in our own little worlds, but we also know that our work is impacted by, and impacts, many others and many other disciplines," says Lark Weller, Water Quality Specialist for MNRRA. "These meetings provide a forum for a diverse group of decision-makers to learn more about how decisions informed by a range of factors can better account for the Mississippi River." Participants report outcomes from their attendance like: The Forum has provided me with "a better understanding of some of the regional scale systems, and larger systems, in place and how everything that we do in practice and in planning cities along the Mississippi has an impact." and Monthly meetings have given me new tools in trying to "change the behavior of...staff and council members on how to deal with storm water."