Mississippi National River and Recreation Area Develops a Multi-modal Transportation Plan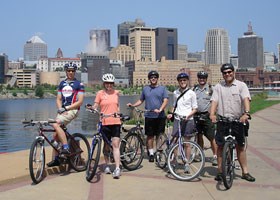 ---
Update
(March 16, 2011)
The Mississippi National River and Recreation Area (MISS) is about to begin phase II planning of the park's Alternative Transportation Plan (ATP). The proposed system includes land and water-based connections to public transit, bicycle and pedestrian trails, and boat access for the 72-mile river corridor in the Twin Cities metropolitan area.
The DOT's Volpe Transportation Center will assist MISS with 1) defining the transportation, signage, and infrastructure components of the MISS Alternative Transportation System, 2) facilitating the development and implementation of a pilot multi-modal project in conjunction with multiple partners for implementation in FY 2012 including coordination with stakeholders and technical assistance for proposed facilities, and 3) assisting with grant applications for MISS transportation projects.
The NPS Denver Service Center will focus on data collection and database management, development of an online project evaluation tool, and marketing and communication products for visitors and partners.
View the ATP Implementation Plan (
PDF
, 875 Kb) for more information.
---
The Mississippi National River and Recreation Area's Alternative Transportation Plan (ATP) represents a series of connections to the Mississippi River. Connections to, along, and on the Mississippi River will provide visitors with multi-modal access to destinations, river access points, bike commuting and recreational opportunities, and transit options within the park's designated corridor. Working with partners, the Mississippi National River and Recreation Area's ATP will promote a leadership framework for the development of a multimodal transportation system that connects to and along the river. The plan will serve as a catalyst for the region's sustainable cultural, economic, and environmental future. The ultimate objective is to create a well-defined and seamless network of multi-modal opportunities in this urban river corridor that is recognized by all visitors as the means to navigate the corridor in its entirety.
The ATP and its partner will identify how to connect non-motorized transportation with transit opportunities along the Park's 72-mile long corridor with existing and proposed transit facilities on both sides of the Mississippi River in the Twin Cities metro area. The Plan's anticipated outcomes will identify infrastructure improvements, their priority, potential funding requests, and will help achieve a number of goals set by the Park's Comprehensive Management Plan. The Plan's goal is to get people to, on, and along the Mississippi River. Objectives include increasing visitation without increasing congestion, improving circulation, protecting park resources, and providing a safer and sustainable visitor and commuter experience.
The resulting planning document will guide and facilitate development of non-motorized transportation facilities and off-road trails focusing on the local segment of the Mississippi River Trail (MRT).
The ATP will serve as a model for non-motorized transportation planning along the MRT, which includes three urban areas, 14 national parks and refuges, and 10 states along the Mississippi River.
Last updated: November 22, 2019