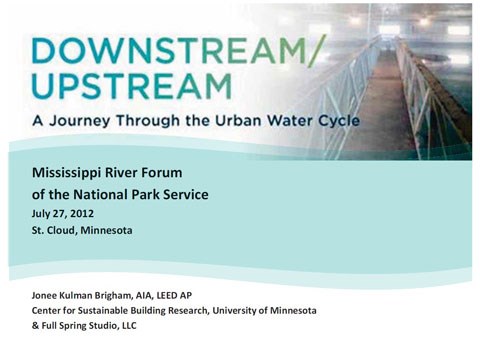 Presentations and Documents

"Downstream/Upstream: A Journey Through the Urban Water Cycle"
Jonee Kulman Brigham, UMN Center for Sustainable Building Research.
Jonee Kulman Brigham presented on the following: "Could you tell me where, exactly, your drinking water enters your house, where it comes from, where your sink water goes and what happens to it when it leaves your house, and what wildlife are living alongside your "waste water"? A group of preschoolers can! As we think about communicating with the public more effectively about clean water, here's an opportunity to learn from a unique watershed education project that literally walked young students through their urban watershed. Last May, 39 children (ages 4 to 6) began a journey from their school in Little Canada, MN through the urban water cycle: following the water infrastructure that connects the Mississippi River to their sink. The students' two week field-based unit included a visit to the water treatment plant, mapping how the water travels from the treatment plant to their sink, learning from public works staff where their school's toilet and sink water goes, taking a boat trip on the Mississippi River--where their water ultimately ends up after they've used it--and learning about the wildlife that calls the river home and their dependence on clean water. After this field work, the students told stories of their water journey using photographs and drawings in visual journals and through contributing to the 8-foot participatory map that charted their path. They also are participating in a related art installation and are planting native flowers on the school property to make stormwater improvements. Learning how clean water comes to us, and how we impact it, through hands-on activities in familiar places, is something from which all residents--adults and children alike--can learn. Come hear how one group of students learned these lessons in a very comprehensive yet personally meaningful way--then think about how we can all communicate about the urban water cycle more effectively."

Jonee Kulman Brigham, AIA is a researcher in the area of Green Schools and Environmental Education at the University of Minnesota's Center for Sustainable Building Research, and an artist at Full Spring Studio.
Download the presentation (PDF, 3.2 mb)