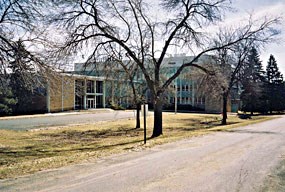 After the Bureau of Mines closed in 1996, Congress authorized the Secretary of the Department of Interior to convey the property to a university or government entity as the "Secretary deems appropriate." The events of 9/11 stalled and precluded efforts of the Metropolitan Airports Commission (MAC) to consider purchasing the Center; withdrawing from negotiations in October 2001.
The property was vacant from 1996-2010, except for occasional temporary use by other agencies or organizations. The U.S. Fish and Wildlife Service were custodial managers of the site while options for future use were being explored. Further Congressional action regarding the property occurred again in 2000 and in 2003 when an appropriation was made to the National Park Service (NPS) to lead the public planning process for "disposition of the former Twin Cities Bureau of Mines Research Center." In 2004, the NPS began planning to initiate the environmental review necessary to determine the fate of the research center.
Several ethnographic, archeological and historical studies supported the preparation of a Draft Environmental Impact Statement in 2006. The Secretary of the Department of Interior selected a preferred alternative for the future use of the property in 2008. A Final Environmental Impact Statement was prepared by the NPS.