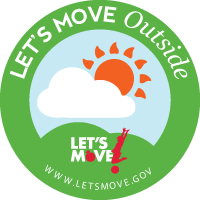 We are excited to announce that the Mississippi National River and Recreation Area (MISS) has been chosen as one of twenty pilot parks to initiate Mrs. Obama's "Let's Move Outside" Junior Ranger Program campaign. The campaign's goals are to introduce kids to a range of healthy, educational, outdoor activities that they can enjoy for a lifetime. These programs include family-friendly activities that are "medium" to "high" intensity and that have an interpretive component.
At our park we have several ongoing and special event Junior Ranger programs that apply:
Canoemobile Mississippi River

(ongoing)


Paddling burns approximately 450 calories/hour.

Bike with a Ranger

(ongoing)
Moderate cycling burns approximately 550 calories/hour.
Geocaching

(ongoing)




Geocaching burns approximately 380 calories/hour.

Snowshoeing (special event)


Snowshoeing burns approximately 400 calories/hour.
Each Junior Ranger that participates in this program will receive a special certificate indicating that they completed the requirements to become a Junior Ranger.
Special event programming will be advertised as they become available. See our Calendar for events.