Be A Junior Ranger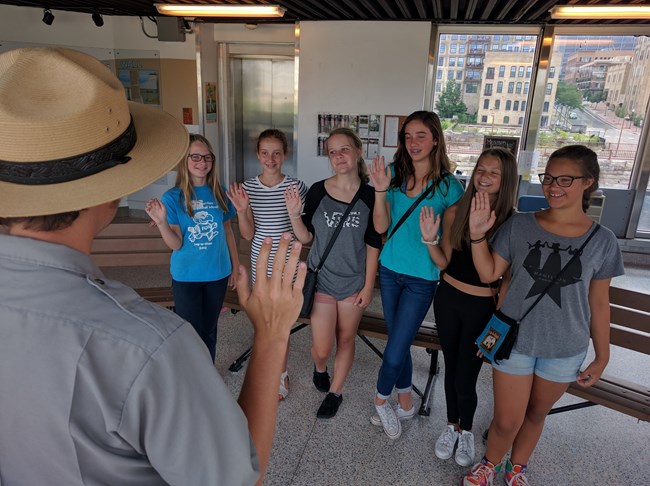 What is the Junior Ranger Program?
The Junior Ranger Program at the Mississippi National River and Recreation Area connects people to the river through a variety of activities. The program is generally geared for ages 8-12, but anyone who wants to explore, learn about, and protect the river is welcome! Each National Park Service site has their own, unique Junior Ranger badge. Whether we're your first Junior Ranger badge or your 100th, we hope you'll enjoy becoming an official Junior Ranger at our Park!
Become a Mississippi Junior Ranger
Earn the Mississippi Junior Ranger badge, featuring "Freddy" the flathead catfish, by visiting one of the participating visitor centers or attending a specific Junior Ranger event. Each site has a unique booklet or activity sheet, but they're all tied to the Mississippi River Junior Ranger badge. Ask for the booklet when you arrive at one of the visitor centers. Then, answer the questions to learn about a specific part of Mississippi River life, and receive your badge. You can also mail the completed book to us and we'll send you your badge.
Contact Your Junior Ranger Coordinator
Junior Ranger Coordinator
111 E. Kellogg Blvd., Suite 105
Saint Paul, MN 55101
Visitor Center: (651) 293-0200
Email the Junior Ranger Coordinator
Last updated: November 22, 2019