Working River, Winter River, Living River Programs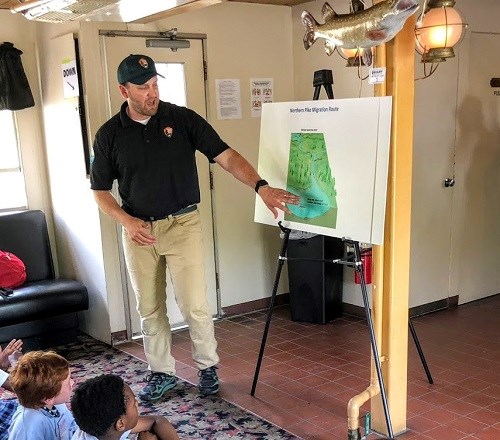 Introduction
Getting students connected to the river in all seasons is the goal for these programs. Schools can register for one, two, or all three programs in order to complement their curricular goals. Programs are thematically based and offer students interactive opportunities for engaging themselves with the park and its unique natural and cultural resources.
Working River Learning (fall)
Students see the working side of the Mississippi River and understand how the St. Anthony Falls and its surrounding land worked as a hub for lumber and agricultural interests throughout Minnesota and the upper Midwest region. Students explore geographical, historical, and engineering aspects of the St. Anthony Falls Lock and Dam, the milling district, and the Stone Arch bridge. Students also use photography skills and game challenges to connect ideas and re-imagine this historic Minneapolis area. Overall, students understand how places change over time.
Winter River Learning (winter)
Students are introduced to the fun side of winter with a day of recreation and orienteering challenges. Taking place at Fort Snelling State Park, this program encourages students to work in teams to complete stations featuring activities designed to enable understanding of basic orienteering skills, and associated physical and geographic skills, in a fun and exciting manner. This program is complemented with a classroom visit by park staff where students are introduced to the program along with a demonstration about dressing properly for playing outdoors.
Living River Learning (spring)
Learn about the river's ecosystem through a three-station rotation on the Jonathan Padelford riverboat near St. Paul's Harriet Island. Stations feature a Lifecycle of a Fish, an eco-scavenger hunt, and a mussel experience. Overall, students understand how people are connected to the river and its ecosystem.
Registration
Learn more about the programs and registration requirements by contacting our Education Specialist at Mississippi Park Connection, David Kappelhoff (e-mail).

Last updated: January 16, 2020