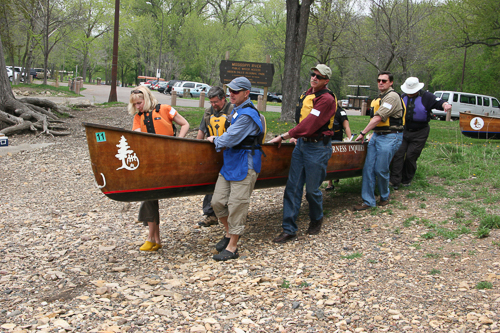 The River Ranger program often has unpaid volunteer and intern positions available, contact David Wiggins to apply.
UWCA Program Support
An intern or interns are needed to provide support for the development of the curriculum materials, evaluation methodology, and grant request related to the Urban Wilderness Canoe Adventure (UWCA). A background in education, grant research and writing, and good computer skills would be helpful.
Supervisor: David Wiggins
Location: Wilderness Inquiry Office
Exhibit Development Support
An intern or interns are needed to provide support for the Spring to Fall 1010 period to assist in the development of new exhibits for the Mississippi River Visitor Center at the Science Museum of Minnesota (SMM). Additional work with some outdoor waymarkers for the University of Minnesota is needed in the spring, which could be combined or not with the SMM work in a single internship position. Strong writing skills, research ability, and some familiarity with graphic design are helpful.
Supervisor: David Wiggins
Location: Wilderness Inquiry Office, with the ability to also travel to the SMM in St. Paul for meetings
Planning Assistant
An intern or interns are needed to assist with interpretive planning work related to the Saint Anthony Falls area. Duties would include working with partners to coordinate meetings and reviews, researching examples in other locations, coordination with NPS and other agency staff working on related planning efforts, and assisting in the writing and editing of planning reports and graphics. Strong writing skills, research ability, and some familiarity with graphic design are helpful.
Supervisor: David Wiggins
Location: Wilderness Inquiry Office
River Ranger Program Development and Support
An intern or interns are needed to assist in developing the partnership with the University of Minnesota for student related programs and learning opportunities with the National Park Service. Duties would include development of promotional materials, presentations to student groups and classes, coordination of reporting and communication, and general assistance to NPS and U of M staff involved with setting up this new program.
Supervisor: David Wiggins
Location: Wilderness Inquiry Office

UWCA Volunteer Paddler
Become involved as a volunteer paddler with the Urban Wilderness Canoe Adventure (UWCA). This program, a partnership between the National Park Service, Wilderness Inquiry, Inc., and the Mississippi Park Connection, will be bringing over 7,000 people in big voyageur canoes on the Mississippi in 2010. Students who are interested in becoming qualified to assist with these programs as volunteer paddlers and interpreters are encouraged to attend the following three programs to learn more about this part of the river. In addition to these programs, safety and paddling training will be required later in the spring to qualify as a UWCA volunteer. Students involved in some degree programs might consider this work to fulfill the community service or practical experience expectations of their program, through arrangement with their teachers and program advisors.
Supervisor: David Wiggins
Location: Wilderness Inquiry Office