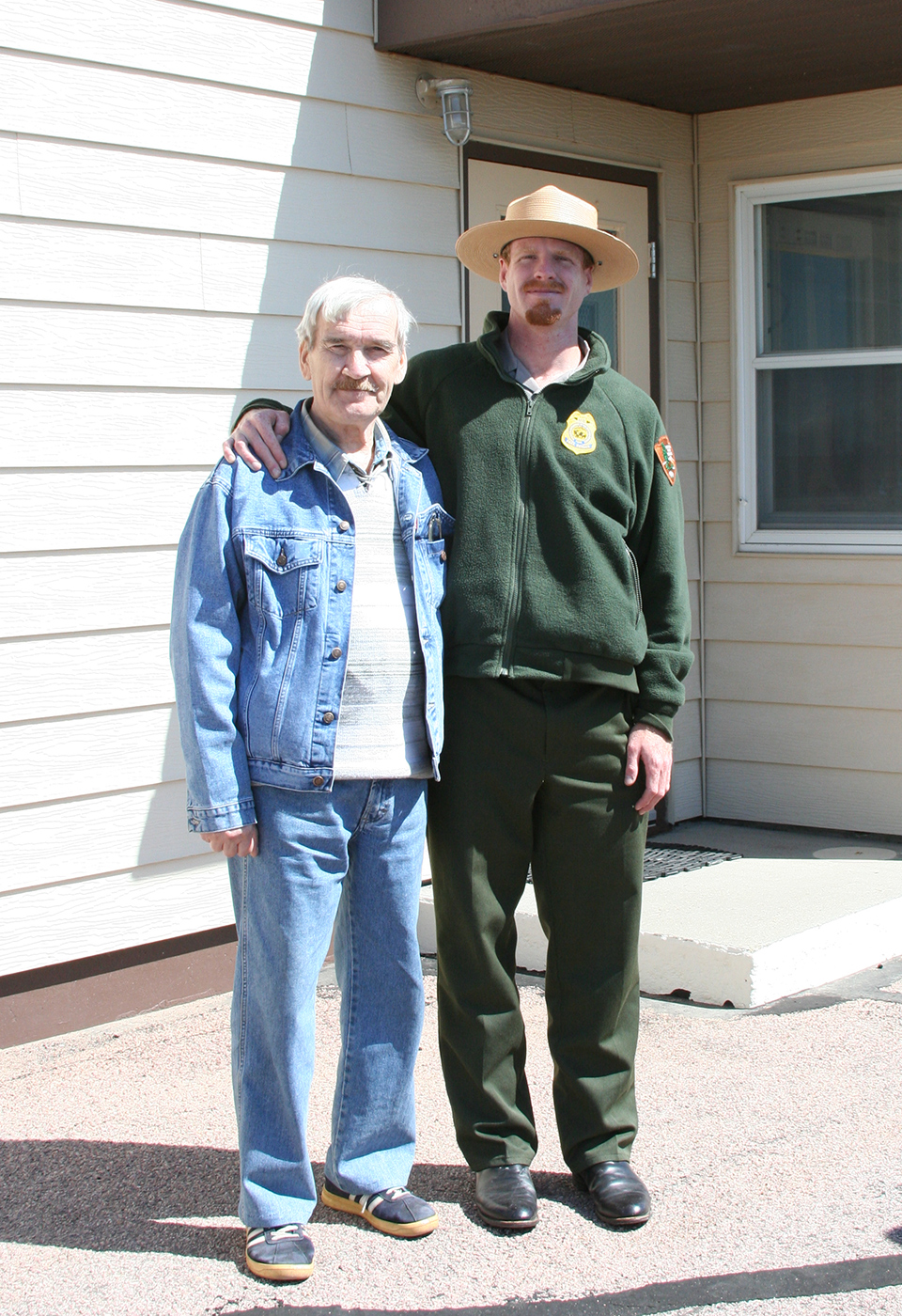 News Release Date:
May 17, 2007
Contact: Mark Herberger, 605 433-5552
Minuteman Missile National Historic Site welcomed a distinguished visitor to the site on May 7
th
& 8
th
, Stanislav Petrov.  Mr. Petrov was visiting Minuteman Missile as part of filming for the documentary "The Man Who Saved The World" due for worldwide released in 2008. Mr. Petrov was once a Russian Strategic Rocket Forces lieutenant colonel.  On September 26, 1983 he was the officer on duty at a military bunker near Moscow. His duty that night was to monitor the Soviet satellite early warning network.  Just after midnight the system showed five incoming Intercontinental Ballistic Nuclear Missiles launched from the United States.  It was Petrov's responsibility to inform of an incoming nuclear attack against the Soviet Union.  Petrov surmised that the system was in error, concluded there was no nuclear attack and did not send this initial false information up the chain of command.  If he had, it is likely that the Soviet's would have launched a full scale counterstrike against the United States.  
The result of Petrov's decision for humanity was that life as we know it went on unabated.  The result of Petrov's decision on his military career was quite different.  His decision had brought to light problems in the Soviet early warning system and embarrassed his superiors.  He was denied promotions over the coming years, reassigned and took early retirement.  The story was not even known outside the secretive world of the Soviet military until the late 90s.  
In the documentary, Mr. Petrov will visit several areas of the United States, meeting both dignitaries and ordinary citizens who are amazed and grateful to hear his story.  Mr. Petrov was especially excited to visit Minuteman Missile since he had never seen an actual underground Minuteman Launch Control Center or silo.  He stated that "he would never have imagined being able to visit one of the enemy's securest sites."  As a matter of fact, Mr. Petrov was not even able to travel outside of his own country during his military career.  He also enjoyed the opportunity to meet Minuteman Missile Park Guide and former Launch Control officer Kerry Davis. Ranger Davis was truly humbled by their historic meeting and expressed the hope "that one day I can visit a former Soviet launch site."  The two former missile officers then shared diverse perspectives and stories about the Cold War.  
A five person Danish-Swedish film crew and Russian translator accompanied Mr. Petrov.  They shot several hours of footage at both Delta-01 and Delta-09 as well as the park's Visitor Contact station.  Mr. Petrov enjoyed his visit to the region, though the early spring heat left him a bit sunburned after filming at the silo on Tuesday.  It seems that Mr. Petrov has an uncanny knack for placing himself in hot situations.  
More information about the site can be found on the internet at
www.nps.gov/mimi