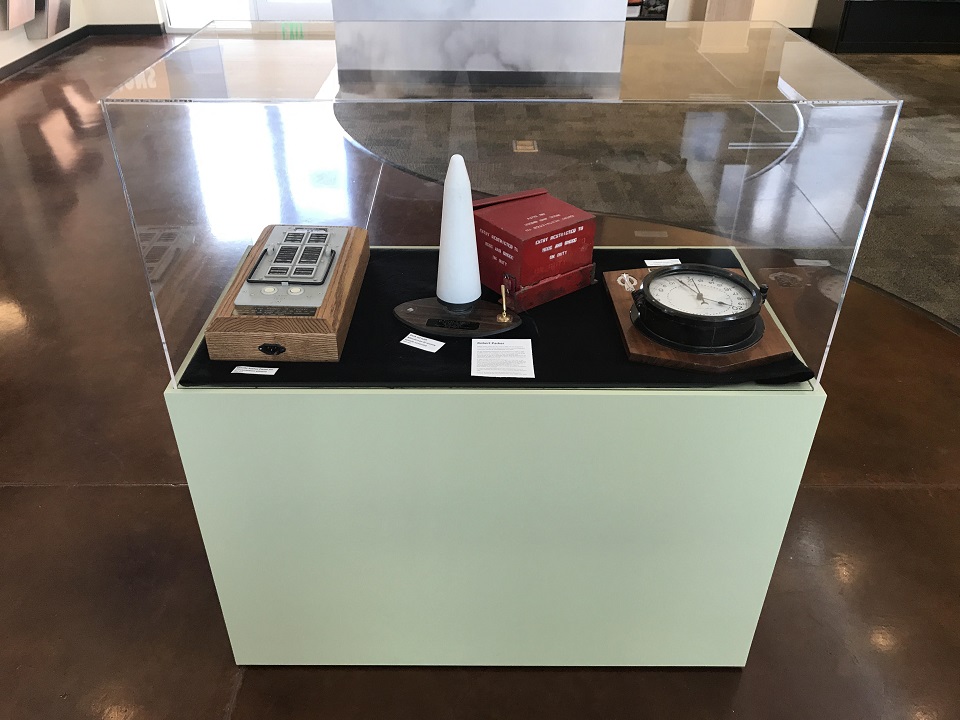 News Release Date:
August 10, 2017
Contact: Joe Brehm, 605 433-5552 ext. 1241
Cactus Flat, SD – Minuteman Missile National Historic Site is pleased to announce the installation of a new temporary exhibit case at the park's visitor center.
"While the park's exhibits provide an excellent overview of the Cold War, the exhibit area did not include a capacity to rotate additional items from the park's museum collection," said Superintendent Eric Leonard, "the generosity of former missileers has allowed the park the ability to display additional items which explore our Cold War story."
The exhibit case was purchased through the support of a 2016 Missile Heritage Grant from the Association of Air Force Missileers. A long-standing partner of the park, the Association of Air Force Missileers is a nonprofit organization for all who have earned the United States Air Force Missile Badge or the Missile and Space Badge, as well as others with an interest in past or current missile and space systems. The Association of Air Force Missileers has given more than $250,000 to more than 29 museums since 1993.
The preliminary exhibit in the artifact case are items donated to the park by Major General Robert Parker (retired). General Parker served as the Twentieth Air Force Commander, June 1994 – July 1996. The Parker collection, including a red box code safe, will remain on display through this October.
Minuteman Missile National Historic Site's headquarters and visitor center is located off of exit 131, Interstate 90. The park consists of three sites along a fifteen mile stretch of Interstate 90 in Western South Dakota. Authorized by Congress in 1999, Minuteman Missile National Historic Site preserves components of the Minuteman II intercontinental ballistic missile system, interpreting the deterrent value of the land-based portion of America's nuclear defense during the Cold War era and commemorating the people and events associated with this recent period of American history. The park is open daily 8:00 a.m. to 4:00 p.m. except Thanksgiving, Christmas, and New Year's Day. More information about the park can be found on the internet at www.nps.gov/mimi or by phone at: 605-433-5552. Visit us on Facebook at www.facebook.com/MinutemanMissileNHS and Twitter at https://twitter.com/mimi_ranger