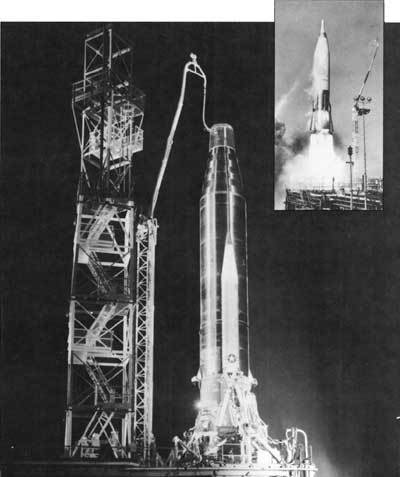 The Atlas was the United States Air Force's first operational Intercontinental Ballistic Missile (ICBM). The Atlas had been in development since the end of World War II in 1945. A test model that only had a range of 600 miles, known as the Atlas A, was launched at Cape Canaveral, Florida in June 1957.
The Atlas then went through several upgrades. The Atlas D had three consecutive test failures in spring 1959. In each case, the missile exploded within three minutes of launch. Finally, on July 28, 1959, a fourth test was successful. Following this, the 576th Strategic Missile Squadron with three Atlas D missiles was deployed on October 31, 1959 at Vandenburg Air Force Base in Southern California.
Over the next six years the upgraded Atlas E and F were also deployed across the United States. At their peak, 132 Atlas sites were operational from December 1962 through May 1964. After that time, the Atlas was phased out in favor of Minuteman and Titan ICBM's.

A Workable ICBM Or A Deflated Balloon
Atlas missiles had to be pressurized while on alert, because the stainless steel shell was so thin—a requirement of flight—that only pressure kept it in place while on the ground. If the missile was fueled and launched, the liquid oxygen fuel inside the missile created the necessary pressure to hold the missile's shape. This system allowed for a much lighter airframe, but required continual maintenance to prevent structural collapse. In layman's terms, an unpressurized Atlas missile might best be understood as a deflated balloon.