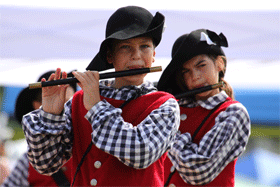 May 6 and 7, 2011
Minute Man Visitor Center
Friday evening tattoo: 7:00 p.m.
Saturday Muster: 12:00 - 4:00 p.m.
The William Diamond Junior Fife and Drum Corp will present their 9th annual Fife and Drum Muster in Lexington, Massachusetts. This year, the Muster will be held at the Minute Man National Historical Park Visitor Center on Route 2A. The event features 25 fife and drum corps and raises awareness of Lexington's colonial heritage. The first concert or "Tattoo" will be held on Friday evening, May, 6th at 7:00 PM. At 12:00 noon on Saturday, May 7, a short public parade along Battle Road will precede the Muster festivities; spectators will experience the uniforms, instruments and tunes of the 25 corps as they parade to the muster field. Then each fife and drum corps takes to the field where various musical selections will be performed for your enjoyment. At the conclusion of each performance, a Muster Ribbon is presented in appreciation of the performing Corps performance and continued friendship to the fife and drum community.
In 2002, three local re-enactors acted upon their shared vision of starting a colonial fife and drum corps in Lexington, creating the William Diamond Junior Fife and Drum Corps. For eight years it has molded local children from the Lexington area and beyond into young adults who exemplify the Corps four core values: Industry, Discipline Responsibility and Leadership. It is a non-profit organization open to children from ages 9 to 18. Parents and instructors volunteer their expertise to give a unique musical education, teach the value of teamwork and mutual respect, and foster an appreciation of 18th century history and music. We are a uniformed Corps whose clothing approximates 18th century attire. Corps uniforms, instruments, and travel are funded by Corps performances as well as through the benevolent generosity of the parents and friends of the Corps.
In 2008, the town of Lexington officially decreed that the first Saturday of each May shall be recognized as "Lexington Muster Day." The Corps conducts scores of performances each year throughout New England and America. In the spring of 2003, William Diamond traveled abroad on a two week performing tour of Switzerland and France. In 2006, the Corp traveled to Williamsburg, Jamestown and Yorktown. In 2010, the Corps returned to Williamsburg, Virginia to attend Colonial Williamsburg Drummers Call 2010.