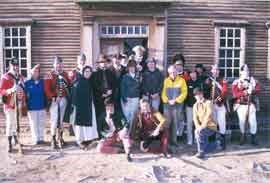 Throughout our nation's history, volunteers have played a critical role in helping protect, preserve and interpret the cultural and natural resources found within our National Parks.
Here at Minute Man N.H.P. there are many different volunteer opportunities to choose from: costumed interpretation, demonstrating 18th-century crafts, assisting at the park visitor centers, park library data entry, trail work, gardening, and research, to name a few.
Serving over 1 million people per year, the success of the park is due, in part, to the number of volunteers eager to help us protect and interpret the place where the American Revolution began. We invite you to come explore the park and the volunteer possibilities.
If you are interested in volunteering for Minute Man NHP and are over 18 years old, please fill out a volunteer application or write to:

Volunteer Coordinator
Minute Man NHP
174 Liberty St.
Concord MA. 01742.

Call: (978) 318-7824
or email
---