The National Park Service Presents... Revolution in Massachusetts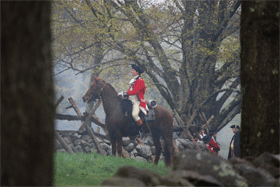 Between 1765 and 1776, Massachusetts was at the forefront of the American Revolution. Today, Massachusetts is filled with Revolutionary history, including many sites cared for by the National Park Service. Join us for a special series of living history events highlighting several key events of the Revolution in Massachusetts. Starting with Patriot's Day events at Minute Man National Historical Park and Boston, you can follow the course of events through 1775 and '76, culminating with a post-war militia muster at Adams National Historical Park.
April 14thPaul Revere's Row
U.S.S. Constitution Museum, Charlestown Navy Yard www.nps.gov/bost
Boston National Historical Park
7:00 p.m.
Boston National Historical Park will commemorate Paul Revere's historic row across Boston Harbor that sparked the American Revolution. The public is invited to an evening of fun that includes colonial games, stories, military drill and a presentation about the true story of the historic row and ride. The Old North Church will once again signal with lanterns in the belfry and Paul Revere and his companion will row across the harbor.
---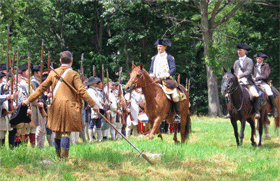 July 14th
Washington Arrives
Longfellow House / Washington's Headquarters NHS www.nps.gov/long
10:00 a.m. - 4:00 p.m.
On June 2, 1775, the Continental Congress appointed George Washington commander-in-chief of the army. Witness the re-enactment of his historic arrival to his Cambridge headquarters as Longfellow House-Washington's Headquarters steps back to July, 1775. Visit a living history encampment, witness displays of military drill, and play fun colonial-era games as we remember this historic occasion.
July 20th and 21st
Across Two Summers Part 1 ~
By His Excellency's Command: The British Army in Salem
Salem Maritime National Historic Site www.nps.gov/sama
10:00 a.m. - 4:00 p.m.
Part one of "Across Two Summers" takes you back to June of 1774, when Military Governor General Thomas Gage moved the capitol of the colony to Salem, with unforseen consequences. Visit the British camp, watch the soldiers perform drill and guard duty and fire muskets. Enjoy an audience with His Excellency the Governor and decide for yourself; now that the soldiers are here, whose side are you on?
August 24th
Across Two Summers Part 2 ~ The Countryside at War
Hartwell Tavern Minute Man NHP www.nps.gov/mima
10:00 a.m. - 4:00 p.m.
In the summer of 1775, the people of Massachusetts faced the challenge of supporting an army at war while at the same time trying to provide for their own homes and families. Visit Hartwell Tavern to learn about life during the Siege of Boston. Talk to displaced refugees traveling from Boston and Cambridge, and Provincial soldiers heading towards the front lines. Enlist in the Massachusetts Army, learn the proper military exercise of the day, help manufacture musket and artillery cartridges and immerse yourself in another period of time, when nothing less than Liberty was at stake.
October 5th
Militia Muster Day
Adams NHP www.nps.gov/adam
9:00 a.m. - 4:00 p.m.
In October of 1788, Governor John Hancock and General Benjamin Lincoln traveled from Boston to Quincy, paying a social call on John Adams at his farm Peacefield. To celebrate the occasion, the Braintree/Quincy militia regiment performed a review across Mr. Adams' fields. Join volunteers and the staff at Adams National Historical Park for a recreation of this 1788 militia review full of military pomp and circumstance.
Last updated: May 4, 2013