A 2020 "Virtual" Patriot's Day - Commemorating the 245th Anniversary of the Battles of Lexington and Concord.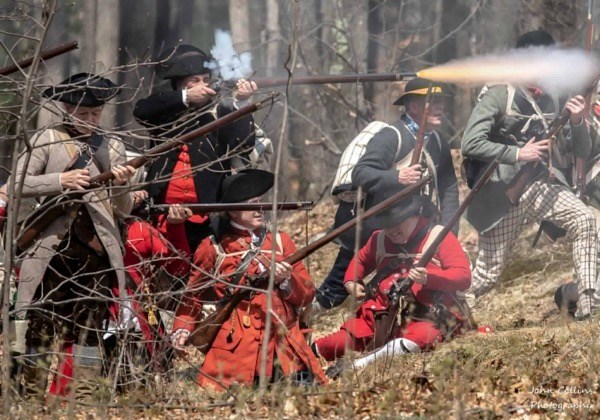 Due to the COVID-19 public health crisis, all planned Patriot's Day events and activities scheduled to take place within the park have been cancelled. In lieu of public commemorations, parades, living history and battle demonstrations, Minute Man NHP, in collaboration with Minuteman Media Network, Lexington Historical Society, Boston NHP, Longfellow House – Washington's Headquarters NHS, and dozens of living history volunteers and scholars will offer a deep dive into the real history of April 19, 1775 through the mediums of web and social media. The focus will be on highlighting the historical people, places and events that make up this unique and compelling story.
The following programs will be shared on Minute Man's Facebook page and will use the following hashtags:
#MinuteManNHP
#VirtualPatriotsDay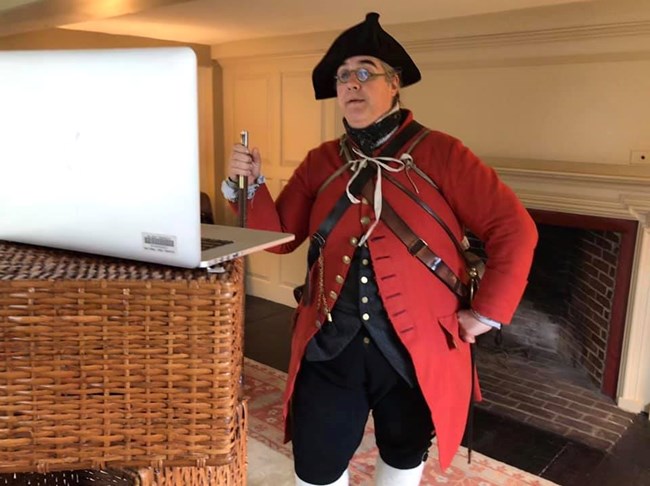 Facebook-Live – "Ask a Ranger!"
Friday, April 3, 10, 17 and 24, 10:00 - 11:00 a.m.
Minute Man's Education Coordinator, Jim Hollister, goes live on Facebook to answer your questions about the start of the American Revolution! Submit your questions by email and Ranger Jim will address them live.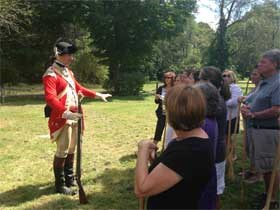 Battle Road Living History Impressions:
Daily through April 18th
By way of a "behind the scenes" glimpse for our virtual visitors, park staff and members of the reenactment community provide photos or short videos of themselves in their 18th century clothing talking about their particular historical impression. Learn about the hard work that goes into creating well researched and historically accurate living history impressions. Also explore the great variety of impressions shown at the park's signature Patriot's Day event, Battle Road: civilians evacuating their homes (older men, women and children), colonial militiamen, both enlisted and officers, as well as British regulars.
"Paul Revere's Ride" video montage
Saturday, April 18th
12:00 p.m.
Many people first heard about the events of April 19, 1775 through Henry Wadsworth Longfellow's poem "Paul Revere's Ride." Though not historically accurate, the poem has a timeless message of hope, courage, and a belief in the power of people to change the course of history - a message that resonates deeply in this difficult time. Minute Man NHP, in collaboration with Boston NHP and Longfellow House-Washington's Headquarters NHS, as well as Concord Museum (home to one of the actual signal lanterns), Lexington Historical Society, as well as scholars and park volunteers will recite stanzas of the poem, some of them some of the actual sites mentioned in the poem. It will air on the park's Facebook page as well as on Concord Community Access Cable.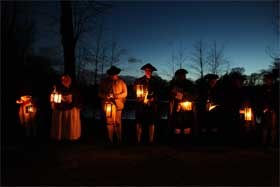 The Patriot Vigil
Saturday, April 18
7:30 p.m.
Join us as we remember those who fell on the "ever memorable" 19th of April, 1775. This year, the Patriot Vigil has been recreated as a video featuring dramatic renditions of the accounts of Hannah Davis Leighton and Rev. Samuel West, followed by various volunteer readers in period clothing who will read the names of the fallen.
You too can participate! On the night of Sunday, April 19th place a lit candle in a window or on a porch in remembrance of the April 19th dead and post a photo of it on Facebook with the hashtag #PatriotVigil.
Revolution In Real Time
10:00 p.m. April 18th - 6:00 p.m. April 19th
Follow the action in real time with posts and videos detailing key events of April 18 and 19, 1775 in the time they happened on that fateful day.
Two Towns and the Start of the American Revolution
Sunday, April 19th
The towns of Lexington and Concord are forever linked in American memory for the role their people played in the events of April 19, 1775. Park Ranger Jim Hollister will sit down (via video conference) with two expert historians to discuss the some of the dramatic history that unfolded within these communities in 1775.
11:00 a.m. Historian and author Alex Cain ("We Stood Our Ground: Lexington in the First Year of the American Revolution") discusses the experience in the town of Lexington of the dire events of April 19, 1775 and the many consequences.
3:00 p.m. Historian and author JL Bell ("The Road to Concord: How Four Stolen Cannon Ignited the Revolutionary War") will explore the gathering and stockpiling of military supplies in Massachusetts, with a particular focus on Concord, and the importance of artillery this revolutionary "arms race."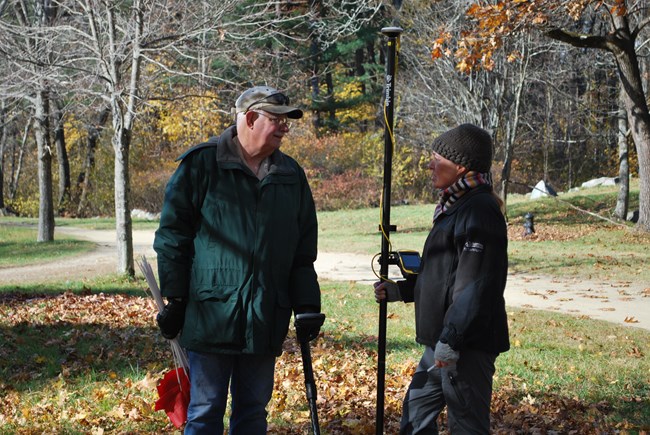 Discovering Lexington's Lost Battlefield
Monday, April 20th
11:00 a.m.
Jim Hollister will interview with historian Joel Bohy and archaeologist, Dr. Meg Watters covering the exciting and eye-opening Parker's Revenge Archaeology Project, and how they, with a team of volunteers and professionals discovered Lexington's lost battlefield
Patriot's Day Memories
Monday, April 20, ongoing throughout the day
Delving into Minute Man's photo archive, we will share various images and videos from Patriot's Days past. All are encouraged to post their photos and memories as well! Use the hashtag #PatriotsDayMemories
Last updated: April 16, 2020