Patriots Day 2010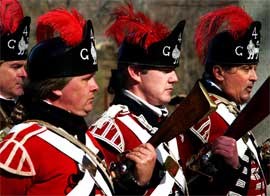 Each year, thousands of visitors flock to Minute Man NHP to celebrate Patriot's Day, a Massachusetts State holiday commemorating the first battle of the American Revolutionary War, April 19, 1775. The occasion is marked with ceremonies, parades, living history and battle reenactments.
Patriot's Day 2010 is officially observed on Monday, April 19, 2010, however , there are events planned around this holiday from Saturday April 10 to Saturday April 24th.
---
Saturday, April 10, 2010
Meriam's Corner Excercise
At Meriam's Corner, Concord
Time: 1:00 p.m.
The Town of Concord, joined by area minute companies, fife and drum units, and the Concord Independent Battery pay remembrance to the fight at Meriam's Corner that marked the beginning of the six-hour running battle back to Boston. The historic Meriam House will be open 11:00 a.m. - 2:00 p.m.
Paul Revere Capture Ceremony
At Paul Revere Capture Site, Lincoln
Time: 3:00 p.m.
The Lincoln Minute Men and the Town of Lincoln, joined by other reenactment units, observe the historic capture of Paul Revere with fife and drum music, a reading of Longfellow's epic poem, "Paul Revere's Ride," and a musket fire salute. 2010 marks the 150th anniversary of Longfellow's poem. For a complete listing of events celebrating the famous patriot and poem, visit www.paulreveresride.org
---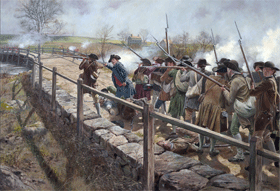 Friday, April 16th
An Artist's Perspective - Don Troiani and "Concord Bridge, The Nineteenth of April 1775"
At Minute Man Visitor Center
Time: 7:00 p.m.
Minute Man National Historical Park is pleased to present world-renown military artist, Don Troiani. Those who are familiar with Troiani's paintings know they are highly dramatic and meticulously researched. During this presentation, Mr. Troiani will discuss the creation of his new painting, "Concord Bridge, The Nineteenth of April 1775" and what sources he used to bring "the shot heard round the world" to life on canvas.
---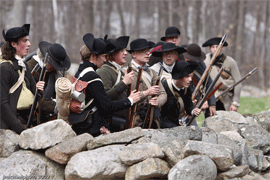 Saturday, April 17th
Battle Road
Minute Man NHP
Time: 8:30 a.m. - 5:30 p.m.
Hartwell Tavern open: 9:30 a.m. - 5:30 p.m.
Captain William Smith House open: 9:30 a.m. - 12:00 p.m.
Battle Road 2010 will feature events in Concord, Lincoln, and Lexington. Activities at Hartwell Tavern and the Captain Smith House will include musket and cannon firing, period music, battle demonstrations and family activities. The schedule of events is as follows:
Commemoration of the North Bridge Fight
At North Bridge, Concord
Time: 8:30 a.m.
British and Colonial reenactors stage a battle demonstration of the fateful North Bridge Fight, April 19, 1775, when the "shot heard round the world" was fired.
Parker's Revenge
Behind Minute Man Visitor Center
Time: 10:30 a.m.
The Lexington Militia fire ceremonial volleys at the site where Captain Parker's men fought in the afternoon of April 19, 1775.
Bloody Angle Battle Demonstration
At Hartwell Tavern area
Time: 12:30 p.m.
300 Colonial and British reenactors will present a battle demonstration representing tactics used during the running fight back to Boston on April 19, 1775. The demonstration will cover a half mile of the Battle Road, beginning near "Bloody Angle" to the Samuel Hartwell House site.
Tower Park Battle Demonstration
At Tower Park, Lexington
Time: 4:00 p.m.
British and Colonial reenactors stage a Revolutionary War battle demonstration using period appropriate battle tactics and weapons.
---
Sunday, April 18th
Living History at Hartwell Tavern
At Hartwell Tavern
Times: 9:30 a.m. - 5:30 p.m.
Our Battle Road activities continue at Hartwell Tavern as Park Rangers and Volunteer Reenactors conduct living history demonstrations, including drill and musket firing, throughout the day.
Barrett Farm Open House
At Col. James Barrett House, 448 Barrett's Mill Rd. Concord MA 01742
Times: 10:00 a.m. - 4:00 p.m. April 18th and 19th
Visit the Barrett Farm and the progress being made in its restoration. The Barrett Farm was a key objective of the British march on Concord and its owner was Col. James Barrett, commander at the North Bridge and responsible for the supplies in the region.
---
Monday, April 19th (Patriot's Day)
Lexington Battle Reenactment and Parade
At Lexington Green
Time: 5:30 a.m.
The Town of Lexington celebrates the first shots of the American Revolution with a battle reenactment of the early-morning engagement between the town's militia and the British regulars. The Lexington Parade starts at 2:00 p.m.
Dawn Salute, North Bridge Remembrance Ceremony
At The North Bridge, Concord
Times: 5:45 a.m. and 7:30 a.m.
The Concord Minute Men and the Concord Independent Battery observe the openning battle of the Revolution in a 21 gun mukset and cannon salute at 6:00 a.m. Following this, at 7:30 a.m. join park staff and volunteers at the North Bridge for commemorative speeches and wreath laying.
British Mourn Arms Ceremony and Concord Parade
At The North Bridge, Concord
Time: 8:30 a.m.
British reenactors will conduct a very moving "Mourn Arms" ceremony in honor of their war dead. The Concord Parade will arrive at North Bridge around 9:30 a.m. with ceremonies featuring Minute Man companies, British reenactors, and music groups. NOTE: All of the roads in the center of town are closed to vehicles beginnig at 8:30 a.m.
Arrival of the Sudbury Militia
At The North Bridge, Concord
Time: 10:30 a.m. (approximately)
The Sudbury Companies of Militia and Minute will make their annual march to North Bridge from the Town of Sudbury, in honor of their fellow townsmen who made the same march on April 19, 1775. They will fire three musket volleys off the North Bridge as a soldierly salute.
---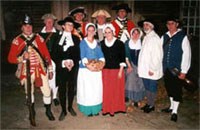 Saturday, April 24th
Junior Ranger Day
Minute Man and North Bridge Visitor Centers and Hartwell Tavern
Times: 9:00 a.m. - 2:00 p.m.
Have fun exploring Minute Man National Historical Park with your Junior Ranger Booklet to guide you. Take part in a variety of activities including story time, "Hat's Off!" in our Reader's Theater, and militia drill with wooden muskets. When you are finished show your work to a Ranger to earn your new badge. For program times and details, visit www.nps.gov/mima/forkids
Battle Road Heroes
At Hartwell Tavern Parking Area, Lincoln
Times: 7:00 - 8:30 p.m.
Tours leave every 15 minutes
Walk down a candle-lit path to the past. Listen to the personal stories of residents who lived along the Battle Road on April 19, 1775. Join Captain William Smith, the Hartwells, drovers, musicians and His Majesty's soldiers for this special evening of theater and history. Appropriate for ages 8 and up. Admission: $5.00 per person, $10.00 per family. Proceeds benefit the Friends of Minute Man National Park. Children wearing their Minute Man NHP Junior Ranger Badges are welcome to attend the program for free.
Last updated: March 31, 2012