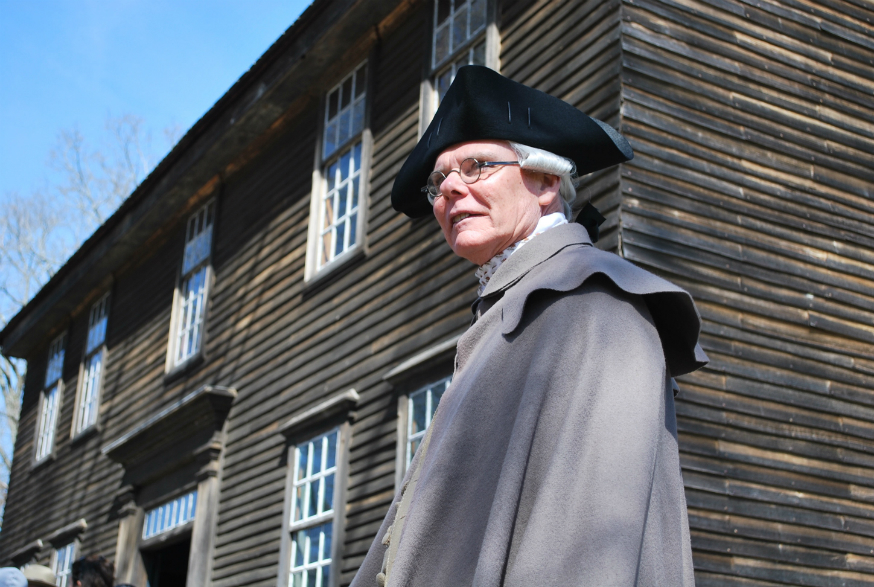 News Release Date:
September 9, 2016
Contact: Phil Lupsiewicz, 978-318-7833
CONCORD, LINCOLN, LEXINGTON, MA.On Saturday, September 17, Minute Man National Historical Park offers a rare opportunity to see inside most of the restored historic homes along the Battle Road in the park. Check out what we have for you:
Whittemore House (Lexington) -  Hands-on 1775: Try on colonial clothing, select ingredients for a meal, and organize your day
Captain Smith House (Lincoln) - The Lincoln Minute Men will demonstrate colonial clothing, good and music, and will drill and fire their muskets.
Hartwell Tavern (Lincoln) - The home of Ephraim and Elizabeth Hartwell was a prosperous farm and tavern in 1775.
"Muster with the Minute Men!"  Discover what it meant to be a minute man in 1775. Participate in a militia muster and be challenged to master REAL battle formations from 1775. The program includes a musket firing demonstration. 10:15, 2:15, 3:15, and 4:15
"Battle Site Exploration Bloody Angle" Explore one of the key battle sites of April 19, 1775 with a park ranger. 11:15 a.m. and 1:15 p.m.
Brooks Village (Concord)
Sam Brooks House -  Historic Trades Demonstration
Job Brooks House - Discover highlights from the parks Archaeology Collection with staff from the NPS Northeast Museum Services Division
Noah Brooks -  Refreshments! Meet the Friends of Minute Man National Park.
Meriam House (Concord) - The British Redcoat:  farm from home, the British soldiers of 1775 was faced with declining budgets, duplicitous natives, and a divided people back home. His task was to keep the peace and stop an insurgency from breaking out. Explore the experience of the British soldier near the site where the running battle began on April 19, 1775.
The Wayside (Concord) -  Re-opened after the tornado of August 2016, meet Sophia Hawthorne and celebrate her birthday.
Join us from 10:00 to 4:00.Start your visit by picking up a park map and a schedule at Minute Man Visitor Center on Route 2A, 250 Great Road, Lincoln, or at North Bridge Visitor Center, 174 Liberty Street in Concord.Walk, drive, or ride your bike from house to house.All events are free and open to the public.

To learn more about this and other park offerings of Minute Man National Historical Park during this centennial year of the National Park Service, including the Junior Ranger program, The Wayside, ranger-led tours, and upcoming special events stop by the Minute Man Visitor Center at, or contact Minute Man National Historical Park at (978) 369-6993, or visit www.nps.gov/mima.
-NPS-