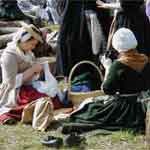 Content Area: Colonial Massachusetts, American Revolution, Lexington Alarm and the Opening Battle of the American Revolutionary War at Lexington and Concord
Teaching Activities and Strategies:living history, primary source evidence, demonstrations of colonial life, and historical narratives of real people and places during a significant event in American history
Self-Directed Study:Using the park's website, www.nps.gov/mima, individual teachers or small groups of teachers will select a series of guided park tours and events to attend within a specific period of time, usually in summer, between the end of June and Labor Day, for a total of at least 8 – 10 hours.
Written Assignment:Each individual will then submit a written list of the events s/he attended, the date and number of hours, and an essay describing: 1) what s/he learned that was new and thought-provoking and 2) how s/he will use this new experience, knowledge, or perspective with students in the classroom. Assignments may be sent by mail or e-mail, in typewritten form using Microsoft Word, to Jim Hollister, Education Coordinator, Minute Man National Historical Park, 174 Liberty Street, Concord, MA 01742 or by e-mail: e-mail us.
Choose from our schedule of educational events, talks, tours, activities, and programs to create an immersive experience in colonial and American Revolutionary history to enhance the curriculum you teach.Combine participation in any 2 or 3 of the events with 1 or 2 of the talks and tours offered routinely in the park by professional staff to total a minimum of 8-10 hours of participation.
For a complete listing and description of guided tours, ranger programs and events, see Guided Tours and Schedule of Events on the park website.