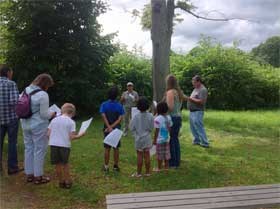 Learn about and teach history where it really happened!
Teacher Ranger Teacher is a National Park Service program where teachers spend a part of their summer working at a national park site along side the rangers. In addition to some "front line" interprative duties at iconic historic sties, Teacher Ranger Teachers also assist park staff in developing lesson plans, field study materials, online resources and more.
One Teacher-Ranger-Teacher position is available at Minute Man this summer. The position involves 230 hours of work. The schedule is flexible. We are looking for a teacher to develop a field study lesson plan for middle and high school students an assist with a teacher institute. TRTs earn a stipend of $3,000 and earn 3 graduate course credits.
If you are interested in applying for this position,
download an application.
Applications must be submitted by June 20, 2017