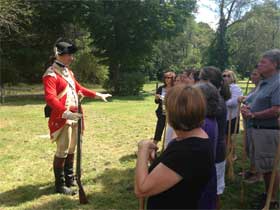 Minute Man frequently runs summer institutes for teachers. Check this web page for updates.

Summer 2017: Lexington and Concord - The Stories We Tell
August 7 - 11
How do we know what we know? Is it important to test the truth of traditional stories? What if the truth is different from what the stories and traditions tell? This five-day experience for teachers is designed to provide a close-up look at the people, communities, and the events of April 19, 1775 when the American Revolution began. Registration is open until July 31st. Please call (978) 318 - 7829 or email jim_hollister@nps.gov for more information.