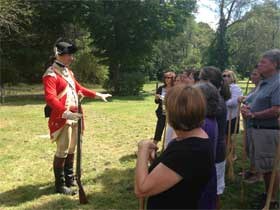 Minute Man National Historical Park and Freedom's Way National Heritage Area present...
Summer 2017: Lexington and Concord - The Stories We Tell
August 7 - 11
This five-day immersive content experience for teachers, based on the Massachusetts Curriculum Frameworks and Common Core Standards, is designed to provide a close-up look at the people, communities, and events of April19,1775 that set America upon the path to nationhood. Using resources and techniques that bring history to life and encourage investigation: visits to historic sites, primary source materials, living history, sessions with historians, academic readings, and online resource, we will explore the stories to be told about the human drama leading to the opening of the American Revolution.
Engage with professional historians
Explore the stories we tell through the evidence on which they are based: documents, artifacts, and historic sites
Learn about using "historical thinking benchmarks" and "history as mystery" to engage your students
Develop a unit of study for your students with new activities and a field visit using primary sources, place-based learning, living history, on-line resources; explore service learning options
Receive Professional Development Points (PDPs) and course credit through Framingham State University (paid for you).
Apply to have your students participate in our "Young Patriots" program (for Spring 2018)
Download a course syllabus here.
Deadline for Registration: July 7, 2017 Space is limited.
Course fee: $15.00
Download a registration form here.
Please call (978) 318 - 7829 or email
e-mail us
for more information.