Professional Development
One Teacher-Ranger-Teacher position is available at Minute Man National Historical Park this summer. The position is equal to approximately 230 hours of work. The schedule is flexible. We are looking for a teacher to develop a field study lesson plan for middle and high school students.TRTs earn a stipend of $3,000 and earn 3 graduate course credits through CU Denver. Applications are due June 5th
All Teacher-Ranger-Teachers
April 19, 1775: Communities at the Dawn of Revolution July 13 – 17, 2015 This five-day experience for teachers is designed to provide a close-up look at the people, communities, and the events of April 19, 1775 when the American Revolution began. Registration is open until July 8th. Please call (978) 318 - 7829 or email jim_hollister@nps.gov for more information.
All Teacher Workshops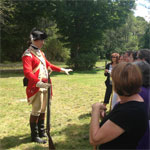 Institute Registration
Learn More
Using the Minute Man Messenger and the park's website, www.nps.gov/mima, individual teachers or small groups of teachers will select a series of guided park tours and special events to attend within a specific period of time, usually in summer, between the end of June and Labor Day, for a total of at least 8 – 10 hours.
All Suggested Reading