Date:
March 3, 2011
Contact:
Sue Johnson-Erner, 970-529-4612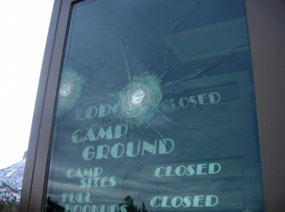 On February 24, 2011, during late evening or early morning hours, the entrance station to Mesa Verde National Park was vandalized. A person or persons fired multiple shots at the entrance station. Damage is estimated at more than $2,000.
Cliff Spencer, Superintendent stated, "This damage to public property is unacceptable and we ask the public for any information they may have regarding the responsible party."
If you have any information that may assist in this investigation, please contact Park Ranger Tim Wilkinson at 970-529-4621

-NPS-