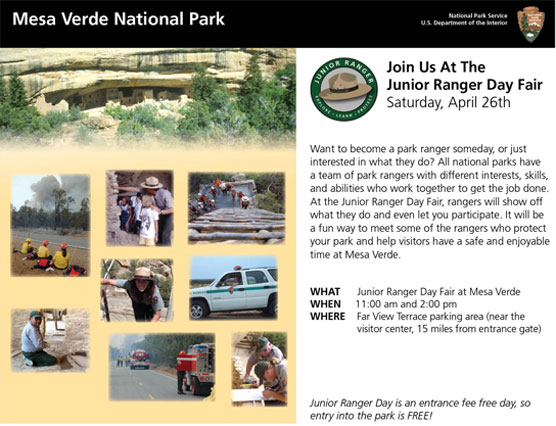 News Release Date:
April 21, 2008
Contact: Tessy Shirakawa, 970-529-4628
Mesa Verde National Park will celebrate National Park Week, by holding a Junior Ranger Day Fair on Saturday, April 26th from 11:00 am to 2:00 pm at Far View Terrace, located 15 miles into the park. All entrance fees that day will be cancelled – it will be a fee free day.
Every national park has a team of dedicated park rangers with different skills and responsibilities. All of their different abilities are needed to protect park resources, visitors and staff. During Junior Ranger Day young people and their families will meet some of these rangers who protect your park and ensure you have a safe and enjoyable visit. Kids will have the opportunity to discover what rangers do, participate in a variety of hands-on, ranger oriented activities, and become an official National Park Junior Ranger.
President Franklin D. Roosevelt once said, "There is nothing so American as our National Parks." During National Park Week, April 19 to 27, 2008, our country underscores its commitment to conserving these magnificent places and recognizes the many employees and volunteers who give their time and energy to keep them beautiful for all Americans to enjoy. This year's theme for National Park Week, "Kids In Parks," highlights youth programs and initiatives offered by the National Park Service to encourage children to be good stewards of their public lands. The Junior Ranger program is one such program that encourages America's youth to explore, protect, and learn about our national parks.
The event will take place from 11:00 am to 2:00 pm at the Far View Terrace parking area near the visitor center, 15 miles from the park entrance. In honor of Junior Ranger Day, April 26th is a fee free day, so the event and park entrance is free. Bring your kids, bring you grandkids, bring your school class, bring your girl scout and boy scout troops – it will be a day of fun, learning, and surprises.
-NPS-