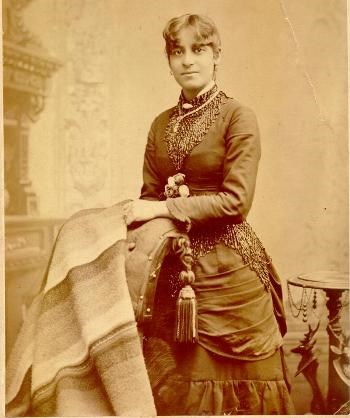 Maggie L. Walker Birthday Celebration
July 14, 2012
Noon - 4 P.M.
Born on July 15, 1864 in Richmond, VA, Maggie L. Walker devoted her life to advancing the fight for civil rights and continuing the legacy of Emancipation. Walker was both a social activist and entrepreneur who advocated economic independence within the black community.
Join us on July 14, 2012 to celebrate and honor Mrs. Walker's legacy on the anniversary of her birth.
Schedule of Events
All Day Activities
Noon - 4 P.M.
Historic Home Tours: Join rangers on a guided tour of Maggie L. Walker historic home.
Exhibit Hall: Tour the exhibit hall to learn more about Walker's life and accomplishments.
Hunt for History: Become a junior ranger! Kids can earn badges or patches by completing activities in a work book.
Become a Juvenile Cadet: Walker and the IOSL Juvenile Cadets wore their regalia with pride, showing their accomplishments. Children can make their own regalia pieces showing their own accomplishments and achievements.
Living History: Mrs. Walker's home and possessions reflected her prominence as a leader in the black community. Experience a rare opportunity to see a luxury 1932 Pierce Arrow car, similar to the one Mrs. Walker owned.
Special Programs:
1:00 P.M.
"Called to Action: Graduation Exercise for the Youth Summer Leadership Institute"
A 30-minute ceremony honoring the graduates of the 2012 Youth Summer Leadership Institute. Keynote speaker is Lewis H. Rogers, Superintendent of Petersburg National Battlefield, who will discuss youth and leadership.
1:30 P.M.
Musical Entertainment and Refreshments
Enjoy birthday cake and ice cream as you listen to some of the Walker family's favorite music, performed by Barbara Williams. Music was selected for the Maggie L. Walker family papers.
2:00 P.M.
Student Presentations
Graduates from the 2012 Youth Summer Leadership Institute will present on Maggie Walker and the other influential leaders of her time in a 30-minute program.
3:00 P.M.
"In Her Own Words: Speeches of Maggie Lena Walker"
Gather in the site's theater to listen to Maggie L. Walker, portrayed by Tiffany Jana, recite some of her most powerful speeches.
3:45 P.M.
Historic Jackson Ward Tour

Join a park guide for a 35-minute walking tour of Jackson Ward. Learn how the ward got its' name and how 2nd Street became nationally known as "Black Wall Street."
The event is sponsored by the Maggie L. Walker National Historic Site, in partnership with the Maggie L. Walker Historical Foundation.