Mobile App
Have you ever wanted to carry Manhattan Project National Historical Park, and every other national park, in your pocket?
The National Park Service has formally launched the NPS Mobile App. Available as a free download, the NPS Mobile App highlights every National Park Service site throughout the country—over 420 sites in all. Download the app now to learn about the history of the Manhattan Project, find things to do and tours to take at all three park locations.
Features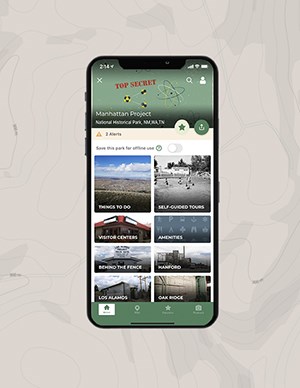 Manhattan Project park rangers, partners, and members of community worked together to develop content for the app. Here's a quick look at some of the app's features.
Places: Discover places with unique ties to the histories of Hanford, Los Alamos, and Oak Ridge.
Self-Guided Tours: Follow self-guided interpretive tours of the Manhattan Project communities.
Park News: Find news, events, and things to do.
Interactive Maps: Each park has a detailed map that includes points of interest, along with roads, trails, and other information to plan your trip.
Accessibility: The app offers a fully accessible experience with tools to benefit visitors with accessibility needs, such as audio descriptions of exhibits along trails and roads and in visitor centers.
Share Your Visit: Tell your friends and family about the fun things you did by creating and sharing virtual postcards with scenes from the park.
Last updated: April 16, 2021