Group Reservations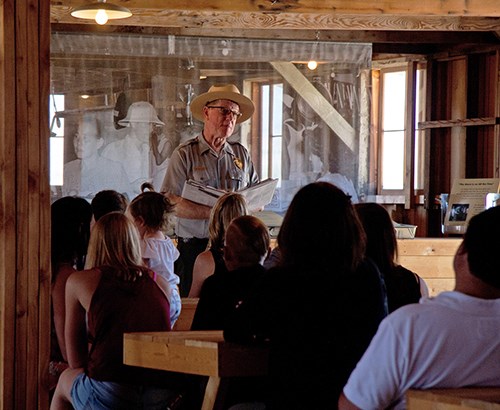 Ranger Guided Group Reservations
As a school, travel group, service group, or organization planning to visit Manzanar National Historic Site you have several options.

You can visit Manzanar on your own. There are exhibits in the visitor center where the award winning 22-minute film Remembering Manzanar shows every 30 minutes. There are the award-winning exhibits in Block 14 that include a restored mess hall, two replica barracks, and a latrine. A self-guiding driving tour of Manzanar circles the site where you will see a baseball field, Japanese gardens, cemetery and monument, and two original sentry posts.

You can reserve a ranger-led program. Depending on the length of your visit, a program may be a 30 minute introduction to the site, or a lengthier in-depth tour of Manzanar. Please email e-mail us to schedule a trip. You may download and fill out the Reservation Request Form and email it to the address at the top of the form. There is no charge for the tour or for parking.
Manzanar National Historic Site requires that school groups include one adult for every 15 students. Our maximum group size is 100. We are not able to accommodate more. Please be prepared to split groups larger than 25. We will do everything we can to confirm your tour, however not all requests can be accommodated due to lack of staffing. If we cannot accommodate your request, please know that you can visit Manzanar on your own. With our extensive exhibits, introductory film, self-guiding driving tour, and rangers at the front desk, tour leaders can lead their own excursions to Manzanar.

Types of Ranger Guided Programs
Block 14 Tour (Outdoor)
Learn what daily life was like in Manzanar. Tour includes a visit to two replica barracks, a latrine, a mess hall, and other features of Block 14. Tour usually lasts 60-90 minutes.
Step-on Bus Tour (Outdoor)
Have a park ranger join your group on your bus and tour the site via the 3.2 mile long driving tour road. Most tours stop at the cemetery and Merritt Park. Tour usually lasts one hour.
Scale Model Talk (Indoor)
This talk is an orientation to the site using a large scale model of Manzanar circa 1944. This is mostly informational and sets the scene for what the camp would have looked like during WWII. Talk usually lasts 30 minutes.
Movie Talk (Indoor)
Our award winning introductory film lasts 22 minutes. A ranger can provide an introduction to the film, then answer questions or lead a discussion afterwards. Usually lasts 30-45 minutes.
Discussion Option
For those already versed in the framework of the incarceration story, groups can ask to add a discussion option to any tour or talk above. The topic(s) can be chosen based on the group's interests. The amount of time needed for this additional discussion will depend on the topic and group.

Tours and talks may be combined upon request and subject to ranger availability.

If you have a specific interest, please let us know and will we try to accommodate your group!

Last updated: 2018
Last updated: February 25, 2019