Guard Tower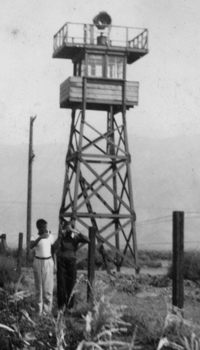 "When I was there in 1942, the towers did not have any glass at all. We had no telephones at any time. The searchlight was hand controlled so we had to climb up on the roof to operate it. When we first arrived at Manzanar we used to shine the lights in the windows of the barracks at all hours of the night. The people in the compound complained so we were told not to continue the harassment.
We did not have any stationary machine guns mounted in the tower. We had Thompson submachine guns, shotguns, and 30' caliber rifles which each sentry carried on and off duty."
Pat Tortorello, Military Policeman at Manzanar in Spring, 1942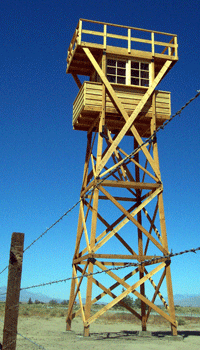 In September, 2005, the National Park Service at Manzanar, in cooperation with the Friends of Manzanar, completed the reconstruction of guard tower #8. This tower stands along Highway 395 at the east side of the site.
Former internees remember the guard towers and the feeling of confinement, reinforced by the "guns facing in." We prioritized the guard tower reconstruction because it is such a powerful symbol of the Manzanar experience.
The tower reconstruction is also an example of successful partnerships. Friends of Manzanar raised funds and contributed a large portion of the money necessary to complete this project.


Last updated: February 28, 2015