Auditorium Restoration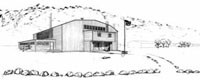 On February 6, 1943, the Manzanar Free Press reported that the War Relocation Authority had authorized the construction of a high school "assembly hall." Nearly a year later the newspaper reported that the Public Works Division of the Manzanar Relocation Center would soon begin construction of the auditorium. It was announced that the building would be located in the firebreak between blocks 7 and 13 and that it would face west.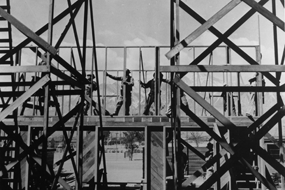 On June 16, 1944, the auditorium/gymnasium was used for the first time. The dedicatory performance was an operetta composed by the high school music teacher entitled "Loud and Clear." Two days later an audience estimated at nearly 1,200 attended the first high school graduation to be held in the auditorium. 177 students graduated. The auditorium was first used for a memorial service on August 6, 1944. The service was held for Pfc. Frank Arikawa, a Nisei soldier who was killed in Italy on July 6.
When the high school graduation was held in the auditorium/gymnasium, construction was not complete. It was not until September 1944 that the auditorium was opened for general use. The building measured 118 feet by 119 feet. The main auditorium floor was 80 ft. x 96 ft. and a stage was located at the east end of the main floor. On each side of the main section, one story wings were constructed to house toilets, dressing rooms, lockers, and offices.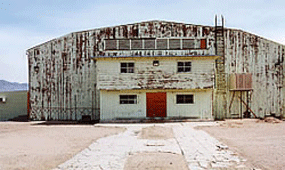 Manzanar War Relocation Center closed in November, 1945. The auditorium was deeded by the War Assets Administration to the County of Inyo. Inyo County then leased the auditorium to the Independence Chapter of the Veterans of Foreign Wars until 1951. In late 1953 or early 1954 the county allowed the V.F.W. to remove the south wing of the auditorium and move it to the town of Lone Pine. The county converted the rest of the auditorium, on its original site, into a county highway department garage and shop. A large door was cut into the center of the east wall, the stage was removed, and the wood floors were replaced with concrete. The county used the auditorium for this purpose until 1995 when the National Park Service purchased the building.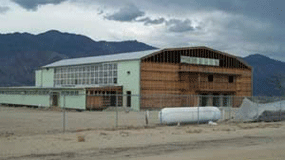 The adaptive restoration of the historic auditorium for use as Manzanar National Historic Site's interpretive center and headquarters got underway in April, 2002. It was completed, and exhibits were installed, in time for our grand opening on April 24, 2004. Today it is the centerpiece of your visit to Manzanar.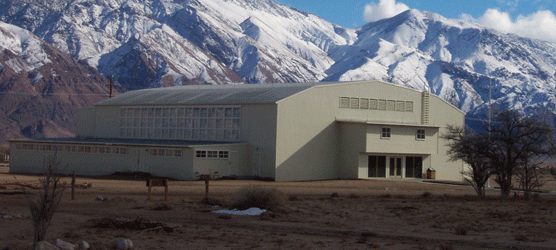 Last updated: February 28, 2015