Museum Collection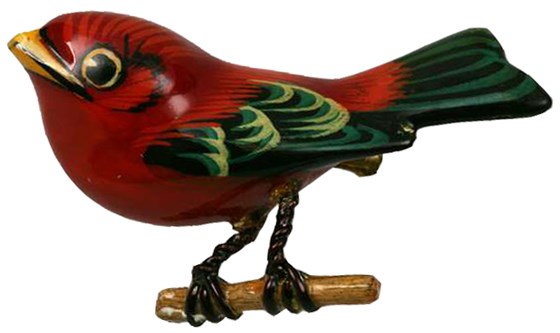 Preserving the Past
Congress established Manzanar National Historic in 1992. Three distinct eras are represented in the site's museum collection. Owens Valley Paiute inhabiting the area from A.D. 600 to the early 1900s; the early ranching and farming period from 1860-1930; and the World War II confinement of Japanese Americans from 1942-1945. The National Park Service has conducted oral histories about these eras of Manzanar since 1999. The purpose of the collection is to preserve, study and interpret the cultural history of Manzanar.Bird pins are one of many artifacts in the Manzanar Collection. These and other items offer a glimpse into life in camp. Furniture, clothing, utensils, cemetery offerings, and other tangible resources enrich our knowledge and our ability to tell the stories of people who lived at Manzanar.
Donating Artifacts and Archives
What does the Park collect?
Artifacts - Items related to family life, school, work, medical care, recreation, religious, entertainment, musical instruments, furniture made in camp, luggage, etc.
Paper Documents - Letters, diaries, journals, post cards, greeting cards, stationary, personal papers, scrapbooks, programs, brochures, books, manuscripts, magazines, newsletters, flyers, war bonds, ration books, etc.
Photographs - Photographic prints & negatives, slides, snapshots, albums, etc.
Motion Pictures - Camp related amateur home movies, newsreels, commercial or government films, etc.
Arts and Crafts - Paintings, drawings, sculptures, jewelry, sketchbooks, etc.
Sports and Hobbies - Sporting goods, uniforms, club memorabilia, etc.
Camp Operations - Furnishings, equipment, logs, administrative documents, records, receipts, payroll, etc.
Japanese American and World War II Collections
Donations must be relevant historic material specifically associated with the internment of Japanese Americans at the Manzanar War Relocation Center during World War II. Donations can be personal possessions and artifacts as well as documents relating to the political and social factors leading to internment. Artifacts and archives from other World War II War Relocation Centers are considered on a case by case basis.
Ranch and Farm History
Manzanar welcomes donations related to the homestead era and early pioneer settlement of the town of Manzanar. These provide a record of frontier ranch and farm life prior to World War II. Donations of artifacts and documents from outside of Manzanar relating to farming, ranching, homesteading and mining are directed to the Eastern California Museum.
Owens Valley Paiute
Donations of historic material associated with the Owens Valley Paiute outside of Manzanar are directed to the Eastern California Museum in Independence for their consideration.
Eastern California Museum
P.O. Box 206 155 N. Grant Street Independence, California 93526
760-878-0258
www.inyocounty.us/ecmuseum
Curation
If you have items that you would consider donating to the park, please contact the curator. When an item is brought to the park a temporary Receipt for Property is issued. If the park adds your donation to the collection, a formal Deed of Gift will be sent to the donor for signature. At that time, the donated item will become a permanent part of the collection. At present, both artifacts and archives are housed at Death Valley National Park and the Western Archeological Conservation Center in Tuscon, Arizona, and some items are on exhibit at the park. In the future we hope to have the entire collection stored on site.
Manzanar has changing exhibits that rotate annually. They generally have themes such as sports, art, fishing, music, and traveling exhibits, etc. Paper items generally do not go on exhibit, they can be scanned and identical replicas of originals can be exhibited. We have a virtual museum exhibit on the Web featuring over 200 items from the collection. We hope to expand this exhibit in the future. Our exhibits are reaching international audiences as web based exhibits grow. Oral History clips and interviews are also available on the Web. Our partner Densho has many of our interviews available online at www.densho.org.
In honor of Asian Pacific American Heritage month 2010, we launched a "Virtual Museum" highlighting more than 200 items from our museum collection. The website highlights Manzanar's past from centuries of Owens Valley Paiute life to the ranching and farming era; from the World War II confinement of 11,070 Japanese Americans, to later Pilgrimages and the eventual establishment of Manzanar National Historic Site. Most of the items featured online have never been seen by the public. Explore our Virtual Museum.
If you have questions about our collection or are interested in making a donation, please contact our Park Curator, at 760-878-2194, ext. 3315.


Last updated: December 12, 2015