Plan A Field Trip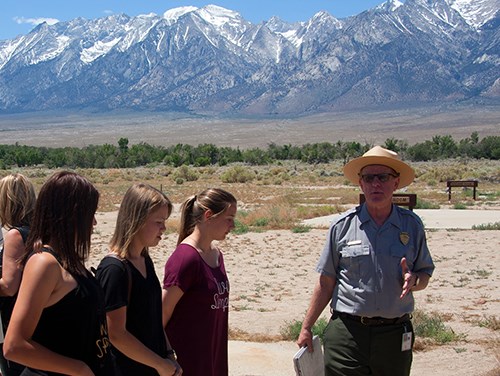 "It was just run like a regular high school. We went to different classes for our different subjects...And we had regular tests and things like that."
Mary Kageyama Nomura

"One day the teacher passed out all these fliers to celebrate Bill of Rights Day. She really caught if from the real vocal kids in the class and she said she couldn't help it, it was part of the L.A. Board of Education curriculum."
Momo Nagano
Field Trips
As a school, travel group, service group, or organization planning to visit Manzanar National Historic Site you have several options. Please review our Ranger Guided Group Reservations page.

You can reserve a ranger-led program. Depending on the length of your visit, a program may be a 30 minute introduction to the site, or a lengthier in-depth tour of Manzanar. Please email e-mail us to schedule a trip. You may download and fill out the Reservation Request Form and email it to the address at the top of the form. There is no charge for the tour or for parking.

Manzanar National Historic Site requires that school groups include one adult for every 15 students. Our maximum group size is 30 people per available ranger. This means that groups larger than 30 may be split between rangers. We are not able to accommodate more. We will do everything we can to confirm your tour, however not all requests can be accommodated due to lack of staffing. If we cannot accommodate your request, please know that you can visit Manzanar on your own. With our extensive exhibits, introductory film, self-guiding driving tour, and rangers at the front desk, tour leaders can lead their own excursions to Manzanar.

Groups are welcome to design their own programs. Please visit our pages on Curriculum Materials and Plan Your Visit to better prepare for your trip to Manzanar.


Last updated: February 6, 2020