Individual Volunteers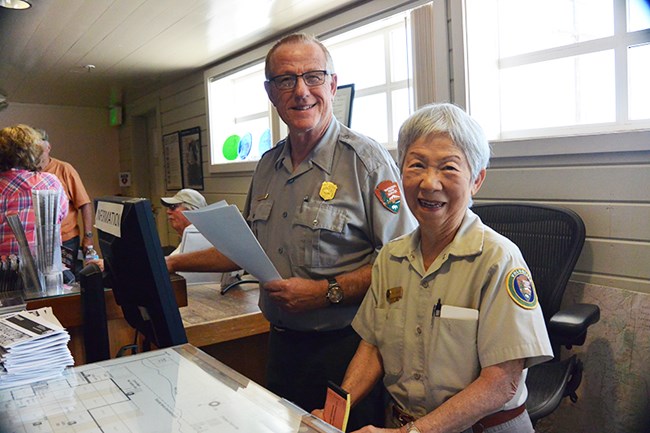 Opportunities for individual volunteers are available year-round. Volunteers may assist with visitor services, assisting at the front desk, participating in public archeological projects, research, administrative support, and much more! Your contribution helps us to protect and preserve the natural, cultural, and historical resources of Manzanar National Historic Site!
Below you can learn more about our potential individual volunteer opportunities.
Potential Individual Volunteer Opportunities
Visitor Services: Greet visitors, answer questions, show movies, and help create a positive visitor experience.
Library Assistant: Organize reference files and photographs located in the park library. Create finding aids to historic resources such as the Manzanar Free Press.
Administrative Assistant: Assist with photocopying, proofreading, and maintaining lists.
Researcher: Perform research at local, state, and regional libraries for the historical information on a variety of topics related to Manzanar.
Docent: Those formerly incarcerated and others with close personal ties to Manzanar give talks and tours to visitors.
Internships: We host interns from various universities who complete projects related to their studies and career interests.
Outdoor Projects: Individuals can also participate in some of our outdoor projects or special volunteer days. To learn more about our upcoming opportunities, check out the Manzanar National Historic Site Facebook page.
Become a Volunteer
To become a volunteer, please fill out an application form. Once your application is completed please send it to the volunteer coordinator along with your resume. You can email or mail your application
e-mail us

Manzanar National Historic Site
PO Box 426
Independence, CA 93526

To learn more about volunteering with the National Park Service, please visit the National Park Service Volunteers-In-Parks page.

Last updated: 2018
Last updated: April 21, 2018