Stone Bridge Project

Construction to the historic Stone Bridge at Manassas National Battlefield began the week of October 9 and is now expected to wrap up in Spring 2018. Although originally intended to be completed in one season, construction will need to be divided into two phases to safely complete the project and address more significant deterioration than expected.The bridge will remain open during most of the work.
Stone Bridge Construction
While contemporary methods and materials will be used to ensure long-term durability, this work will not change the bridge's historic look and feel.
Construction includes:
Stabilizing the bridge foundation
Repairing historic stone masonry
Re-paving the surface of the bridge
Additional work includes repairing damage to the center pier caused by years of erosion and replacing the deteriorating cement coating on the underside of the bridge. Missing and damaged stones on the exterior of the bridge will be replaced and repaired using techniques employed when the bridge was completed in the 1880s.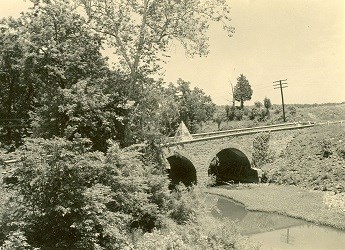 About the Historic Stone Bridge

During the First Battle of Manassas, Union artillerists positioned east of the bridge fired the opening shots of the battle over the stream crossing the morning of July 21, 1861. Originally built around 1825, Stone Bridge survived the First Battle of Manassas only to have Confederate forces destroy the span in 1862. Union army engineers constructed a temporary wooden span over the bridge ruins in 1862. The present-day Stone Bridge was completed in the 1880s on site of the earlier bridge, and remained open to vehicles until the mid 1920s.
Last updated: December 21, 2017