Internships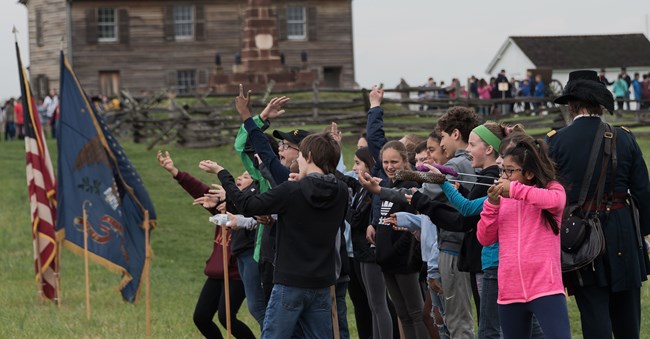 Application deadline now extended until November 30, 2019!



Education Internship Opportunity for Spring 2020

Looking for a chance to work in the field of museum education? Do you love working with children and families? Do you have an interest in the Civil War?

Manassas National Battlefield Park is looking for an energetic and enthusiastic education intern from mid-February through mid-May 2020.
This intern will work closely with the Park's Education Program Coordinator to facilitate educational programming (both historical and natural resources based). The education intern will assist with school groups; engage in family programming; assist with events; and handle some basic program administration such as contacting and confirming times and dates with teachers, or inventorying supplies. Interns will also be expected to create a new interpretive product to be used for educational programming at the park such as a family activity, curriculum-based activity, pop-up exhibit, scouting activity, or guide/brochure.
Training will be provided. It is expected that the education intern work a 40 hour week which will include weekend/holiday work. Anticipated start date for this internship is mid-February 2020, and will run for approximately 12 weeks during our peak season for school field trips. The chosen candidate will receive a $2,000 stipend. Park housing may be available.

The ideal candidate will meet the following criteria:
Relevant course work leading to a degree in history and/or education preferred. Consideration will also be given to applicants who have completed other relevant course work in areas such as museum studies, anthropology, etc...

Previously held relevant volunteer positions or internships.
A demonstrated interest in working with children and families.
A demonstrated interest in the history of the Civil War, especially the First and Second Battles of Manassas.
Preparedness to handle stressful and difficult conversations about contemporary issues related to the Civil War.
Enthusiasm, energy, and positivity.
Demonstrated ability to improvise, think critically and outside of the box.
Public speaking skills and storytelling ability a must.
To apply:
Please
email
a copy of your resume, a cover letter, and a list of at least 3 professional references by November 30, 2019.
If you have questions regarding this internship, please contact Education Program Coordinator, Liz Hokanson at 703-361-1339 ext. 1205 or mana_education@nps.gov.
Last updated: November 3, 2019