White-Nose Syndrome and Mammoth Cave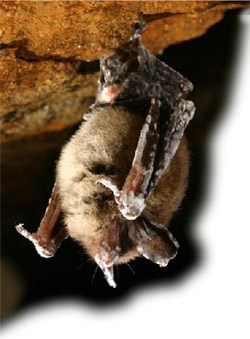 A disease called
white-nose syndrome (WNS)
is spreading through the eastern United States, killing bat populations. Although this disease is not known to affect humans, it has been associated with the
deaths of more than 5.5 million bats
since it was first identified in 2006.
White-nose syndrome is caused by a cold-loving fungus called
Pseudogymnoascus destructans
. The fungus invades bats' skin where it is not covered by fur, such as the muzzle, wings and ears. The fungus forms white patches on these areas, giving rise to the name.
The fungus attacks bats while they are hibernating. It disrupts their hibernation and may cause starvation or dehydration. Scientists are actively studying the fungus to determine how it kills the bats.
The potential exists for the loss of millions more bats-and perhaps entire species. This is bad news for us, as bats devour millions of insect pests and play a role in pollination.
---

White-nose syndrome is considered to be present in the Mammoth Cave System.
While there are no known harmful effects to humans, the fungus Pseudogymnoascus destructans, a fungus new to North America, is responsible for the deaths of more than 5.5 million hibernating bats across the eastern United States since its discovery in 2006.
Significant evidence indicates that humans can and have transmitted the fungus from one cave to another, hastening its spread. While no tours at Mammoth Cave National Park enter areas used by colonies of bats for hibernation, bats do occasionally fly through toured sections of the cave year-round.
On the remote chance that you might come into contact with Pseudogymnoascus destructans spores during your tour of Mammoth Cave, all participants in Mammoth Cave National Park cave tours will be required to walk the length of an artificial turf mat to remove spores and dirt after exiting the Cave. We also ask for your cooperation by washing your hands and changing clothes and footwear before visiting any other caves or mines.
If you or other members of your party do not wish to comply or cannot comply with this requirement, we will be happy to fully refund your money; any tickets purchased online or through the reservation call center will, however, be subject to normal cancellation fees.
Your cooperation with this important measure will help prevent the possible spread of the fungus responsible for white-nose syndrome to other caves or mines. We apologize for any inconvenience, and thank your for helping to minimize the risk of spreading this disease so devastating to bats.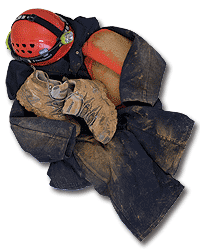 You can help protect bats at Mammoth Cave from the spread of white-nose syndrome.
It is believed that humans may contribute to the spread of white-nose syndrome by visiting contaminated caves or mines and then wearing the same clothing or carrying the same objects to unaffected caves or mines, transporting spores from one place to the other. You can help us save bats by following these simple guidelines:
Do not wear any shoes that have been in another cave or mine since 2005. If you cannot change shoes after a tour in another cave or mine, be prepared to clean your shoes at the White-nose Station before going into the cave. This process only takes a minute or two.
Do not wear any clothing, or carry any objects into Mammoth Cave that you wore or carried with you in any cave or mine since 2005. Please leave any potentially contaminated objects at home or in your vehicle.
You

will not

be allowed to go on the tour with clothing or items that have been in affected caves or mines. Your compliance is essential in this regard.
If you have questions, please visit the

White-nose Station

at the Visitor Center. A ranger there will be happy to assist you.


Last updated: August 5, 2015