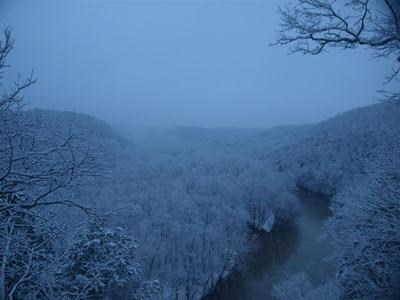 Serenity. Solitude. Sensational. These are words that aptly describe wintertime at Mammoth Cave National Park. The trees have begun their long winter's nap. The deer have on their thick coats and the squirrels are bundled up with their autumn harvest. Without leaves, the unique features that help sustain this cave country become clear. Rocky bluffs, deep valleys and flat ridge tops take center stage on the landscape. If you want to feel you have the park all to yourself come take a winter hike or enjoy a back country campsite free of charge. While the surface may be subject to winter's chill, the cave becomes a warm refuge from the frosted forest. Come and explore the calm and quietness in nature at your national park.
Our winter schedule runs October 28, 2018 - March 22, 2019. Please note that Mammoth Cave National Park, including the Visitor Center and cave tours, is closed Christmas Day, December 25. Safety and security personnel will continue to operate on December 25, but no visitor services will be available.
The Visitor Center hours are 8:30 a.m. - 4:30 p.m. Central Standard Time.
Tickets are required to enter Mammoth Cave. Reservations are not required, but are strongly recommended. Cave tours frequently sell out and reservations are the only way to ensure a spot is available for you and/or your party. Please plan accordingly. Reservations cannot be made the same day of the tour. Adult ticket prices are for individuals 13 and up. Youth ticket prices are for visitors age 6 - 12. Unless otherwise noted, all visitors under the age of 16 must be accompanied by an adult age 18 or over.
Unless otherwise noted, flash photography is not permitted on cave tours.
Below you will find our full selection of tour times and descriptions offered this winter. Feel free to read each one, decide which is best for you and tailor-make your own opportunity to experience the wonders of Mammoth Cave National Park.