Swimming in Mammoth Cave National Park
Swimming in park waters is not recommended. At normal stage, the Green River flows at a relatively brisk 4.3 knots, about 5 miles per hour, which is too strong to swim against. There is no designated swimming area in the park and no lifeguards on duty.

Do not be a victim of drowning! U.S. Coast Guard Approved personal flotation devices are required on the rivers in Mammoth Cave National Park. Drowning is the #1 cause of death in National Parks. Swimming in open, natural waters is very different from swimming in pools. Natural waters can change in depth unexpectedly, going from shallow to deep in just a few steps. Natural waters can also have swift currents and underwater hazards such as trees and rocks.

Moving water is more powerful than the strongest swimmer. It is also deceptive and dangerous. Do not let moving water fool you. Even wading in shallow water can pull you off of your feet. Stay far enough back from moving water so that an accidental trip or slip on wet rocks will not cause you to fall into the current and be swept away.

Do not overestimate your swimming ability. If you do swim, observe weather conditions. Flooding is possible. In case of storms, leave the water and seek shelter.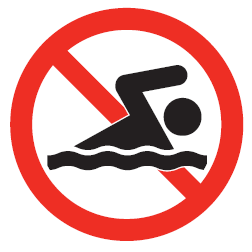 ---
Swimming, wading, or bathing within 200 feet of the Green River Ferry crossing is prohibited

.
The area at Green River Ferry is used for the operation of the ferry and launching small watercraft. The safety of swimmers and bathers would be at risk in this area. In addition, swimmers and bathers in these areas would interfere with the efficient completion of agency functions (i.e. the operation of the ferry).
Learn and Explore
---

More On The Rivers
Finding your way along the Green and Nolin Rivers in Mammoth Cave National Park is a lot easier if you follow these links.
Last updated: May 30, 2018