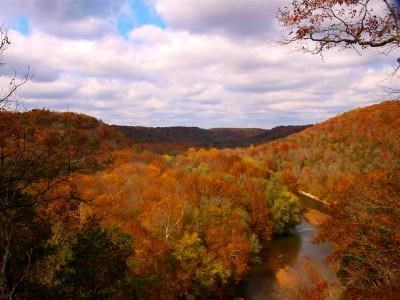 The busy days of summer are soon forgotten as the park slips into fall. The thick green woodland transitions into a landscape of beautiful autumn colors. Radiant reds, gushing golds, pretty purples and amazing oranges blanket the tree canopy. Hikers can enjoy the vibrant nature trails. Canoeists can lazily drift down the Green River in a corridor of color. The underground world of the park also changes as a variety of specialty tours access parts of the cave with fewer numbers. Whether above or below ground, the fall is a wonderful time to visit Mammoth Cave National Park. Feel free to come and join us and experience your America!
Our fall schedule runs August 19 - September 15, 2018. The Visitor Center hours are 8:00 a.m. - 6:00p.m. Central Time.
Tickets are required to enter Mammoth Cave. Reservations are not required, but are strongly recommended. Cave tours frequently sell out and reservations are the only way to ensure a spot is available for you and/or your party. Please plan accordingly. Reservations cannot be made the same day of the tour. Adult ticket prices are for individuals 13 and up. Youth ticket prices are for visitors age 6 - 12. Unless otherwise noted, all visitors under the age of 16 must be accompanied by an adult age 18 or over.

Unless otherwise noted, flash photography is not permitted on cave tours.
Below you will find our full selection of tour times and descriptions offered this fall. Feel free to read each one, decide which is best for you and tailor-make your own opportunity to experience the wonders of Mammoth Cave National Park.