Canoe and Kayak outfitters offering services in Mammoth Cave National Park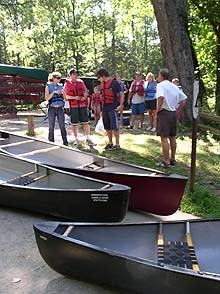 Canoes and Kayaks are available through liveries outside the park. Contact:
Cave Country Canoe
(270) 773-5552

Green River Canoeing, Inc.
(270)773-5712
(270)590-5335
Mammoth Cave Canoe and Kayak
(877)59-CANOE
(270)773-3366
---
Please be aware:
Personal Flotation Devices (PFDs/life jackets) are required on rivers inside Mammoth Cave National Park. It is important that your PFD is properly fitted and U.S. Coast Guard-approved.
---
Launching watercraft is prohibited when river levels are at or exceed 20 feet on the park's water level gauges. Strong, swiftly moving currents as well as large drift flowing in the river channel pose a hazard to safety. Canoe liveries with permits to operate in the park are prohibited from renting or providing canoes during these times.
To find out whether conditions on the Green River are suitable to launch your canoe or kayak, visit the USGS website by clicking
here
.
You should also download our bulletin on
Safety Around Green River Ferry
.
Learn and Explore
---

More On The Rivers
Finding your way along the Green and Nolin Rivers in Mammoth Cave National Park is a lot easier if you follow these links.
Last updated: March 6, 2019